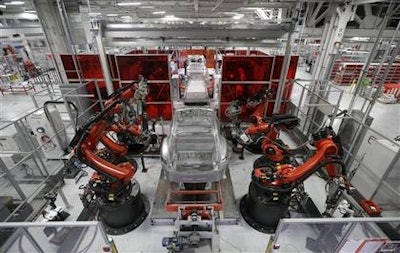 U.S. manufacturing growth accelerated in May for the first time in six months, propelled by more new orders and an increase in hiring.
The Institute for Supply Management, a trade group of purchasing managers, said Monday that its manufacturing index rose to 52.8 last month, from 51.5 in April. That's the highest reading since February. Any reading above 50 signals expansion.
The pickup in factory activity suggests the economy is improving modestly after a sluggish start to the year. Still, growth remains slow, held back by a range of factors. Americans have been reluctant to boost spending, even as hiring has been healthy and lower gas prices have left consumers with more money to spend. The dollar has risen sharply in value, which makes U.S. goods more expensive overseas and drags down exports.
A measure of production fell last month, the ISM said, though remained above 50. But a gauge of new orders rose to the highest level since December, a sign production should pick up in the months ahead.
And a measure of employment jumped to 51.7, after falling below 50 in April. That means manufacturers added jobs last month.
Weak growth overseas has also held back U.S. factories. China's manufacturing sector barely expanded last month, according to one index, which ticked up to 50.2 in May from 50.1 the previous month.
U.S. export orders remained flat last month, the ISM said.
Meanwhile, the sharp drop in the price of oil, from $110 a barrel last June to less than $50 in January, has caused drilling companies to sharply cut back on digging and building new wells. That has lowered demand for steel pipe and other equipment.
Overall business spending on buildings and equipment fell 2.8 percent in the first quarter, the government said last Tuesday. That is the biggest drop in more than five years.
Still, there are signs that businesses, particularly those outside oil and gas, are starting to spend a more on big-ticket items such as machinery and metals. Orders in a category that reflects business investment rose 1 percent in April, the second straight increase after falling sharply in February.