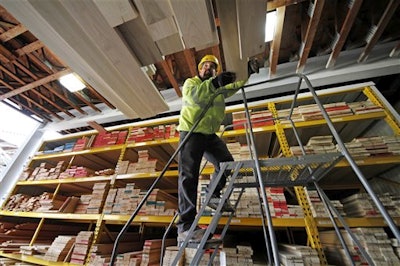 WASHINGTON (AP) — U.S. wholesalers boosted their stockpiles in April by the largest amount since January, while their sales surged at the fastest pace in 13 months.
Stockpiles held at the wholesale level rose 0.4 percent in April from March, the Commerce Department reported Tuesday. Sales increased 1.6 percent after falling in March. It was the strongest advance since March 2014 and follows a number of months in which sales either declined or were flat.
An increase in inventories can be an indication of rising business optimism as companies restock empty store shelves in anticipation of stronger demand.
Economists are expecting sales at both the wholesale and retail levels to rebound in the coming months after a slowdown in the first quarter, caused in part by unusually frigid weather. A pickup in consumer spending, which accounts for 70 percent of economic activity, would help support overall growth.
A harsh winter, a strong dollar and a plunge in energy prices that squashed investment spending combined to send the economy into reverse in the first three months of the year. The overall economy, as measured by the gross domestic product, contracted at an annual rate of 0.7 percent in the January-March quarter.
Economists believe the economy has emerged from that soft patch and will see stronger activity for the rest of the year. They are forecasting growth of around 2 percent to 2.5 percent in the current April-June quarter and expect growth to accelerate to around 3 percent in the second half of this year.
This rebound is contingent on continued strength in the job market, which should boost consumer incomes and power gains in consumer spending. Last week, the government reported that payrolls increased by a robust 280,000 in May.