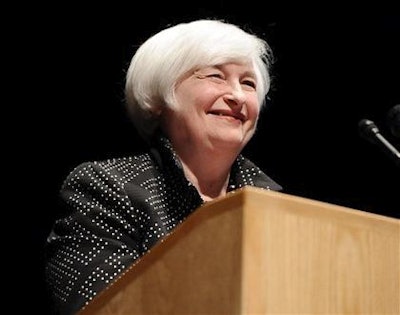 Chair Janet Yellen said Thursday that she expects the Federal Reserve to begin raising interest rates from record lows by the end of the year.
In a lecture at the University of Massachusetts at Amherst, Yellen said she thought inflation would gradually move up to the Fed's target rate of 2 percent as unusually low oil prices and other factors prove temporary. And she suggested that global economic weakness won't likely be significant enough to dissuade the Fed from raising its key short-term rate from zero by December.
Yellen's comments may help clarify doubts about the Fed's intentions that deepened last week after its latest policy meeting ended. The Fed chose not to raise rates, citing global economic pressures and concern about excessively low inflation.
That decision raised worries that the Fed had greater concerns about economic problems in China and falling stock markets than investors had previously thought.
In her speech Thursday, Yellen said Fed officials continue to monitor economic troubles abroad. But she said officials don't think those challenges will significantly influence the central bank's interest-rate decisions.
Toward the end of the speech, Yellen, 69, paused twice for several seconds, appearing to have lost her place in the text. The Fed said in a statement later that Yellen "felt dehydrated at the end of a long speech under bright lights."
The Fed statement said she was seen by emergency medical personnel and "felt fine afterward and has continued her schedule Thursday evening."
At a news conference last week, Yellen had avoided saying whether she herself still thought a rate hike would be justified this year. She said she preferred to convey the collective view of the Fed's policymaking committee, which establishes the central bank's rate decisions. But on Thursday, Yellen included herself, saying, "Most of my colleagues and I anticipate that it will likely be appropriate to raise the target range for the federal funds rate sometime later this year."
The Fed has two remaining meetings for this year, Oct. 27-28 and Dec. 15-16. Many economists say they doubt the Fed would have enough new information to be confident about hiking rates in October but say they do expect a move in December as long as nothing unexpected happens to threaten the economy.
"Our base-case scenario is still that the Fed will begin to hike rates in December," said Paul Ashworth, chief U.S. economist at Capital Economics.
He cautioned, though, that any government shutdown caused by battles over the federal budget or a failure to raise the government's borrowing limit in a timely way could cause the Fed to further delay a rate increase.
As she has before, Yellen stressed that when the Fed does begin raising rates, it expects the increases to be extremely gradual. The central bank has left its benchmark rate at a record low since 2008. It last raised rates in 2006.
She also emphasized that the Fed has made no final decision about a rate hike. The decision still depends on further progress toward the Fed's dual mandates: Maximizing employment and maintaining price stability, which the Fed defines as inflation rising at a modest annual pace of 2 percent.
In August, the U.S. unemployment rate reached a seven-year low of 5.1 percent, essentially achieving the Fed's job goal. But inflation has been running below the Fed's target for more than three years and recently has fallen even farther from the 2 percent goal. Ultra-low inflation has resulted in part from a plunge in energy prices over the past year and a higher-valued dollar, which has made imports cheaper.
Yellen said Fed officials still think the depressive effects of the dollar and energy prices will fade, allowing inflation to return to the 2 percent level. She noted that the Fed expects low unemployment to eventually accelerate wage gains.
Yellen's comments came in a 23-page speech that was accompanied by numerous charts, economic formulas and footnotes, which provided an extensive review of the Fed's views on factors that influence inflation.