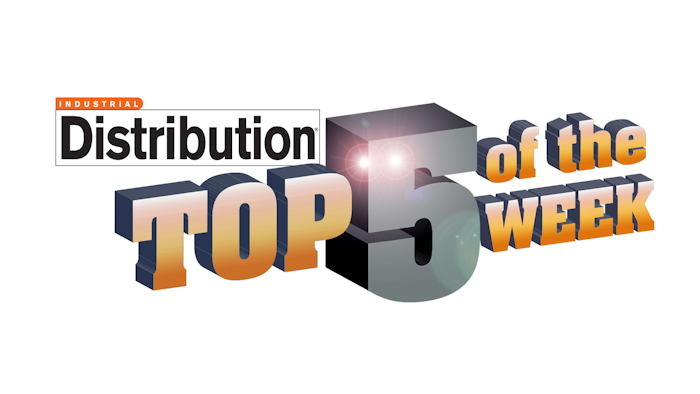 In the first business week of the new year, news across the industrial distribution market was highlighted by three well-known companies – Applied Industrial Technologies, MSC Industrial Supply, and Motion Industries.
Here's is ID's first Top 5 of the week of 2016.
Applied Industrial Technologies Acquires HUB Industrial Supply: Cleveland, Ohio-based Applied – No. 16 on ID's 2015 Big 50 List – announced Tuesday that it has acquired HUB Industrial Supply, a Lake City, Florida-based distributor of consumable industrial products. Terms of the deal were not disclosed. HUB, founded in 1990, has a team of 52 employees between its three locations – Lake City, FL; Indianapolis, IN; and Las Vegas, NV. The company distributes an array of products including cutting toos, fasteners, abrasives, safety products, paints, and related general industrial items. HUB, founded in 1990, was doing $500,000 in annual sales as of 1996. HUB CEO Gabriel Curry bought the company in 2006 at the age of 27, and as of last year, had turned it into a $25 million distributor.
Grainger, Fastenal, Amazon Lead ID's Top 15 Of 2015: 2015 was another whirlwind year of activity across the industrial distribution market. From the West Coast Port shutdown, to major company mergers, to the developing "industrial recession" tied to oil prices and foreign exchange headwinds, the biggest items on ID this year included the industry's most well-known companies. Here's the headlines that made the most noise on ID in 2015, in countdown fashion.
MSC's Q1 Sales & Profit Slide On Oil, Foreign Exchange: MSC reported its 2016 fiscal first quarter earnings on Wednesday for the period ended Nov. 28, 2015, posting Q1 sales of $706.8 million, down 3.3 percent year-over-year, while its profit of $55 million was down 4.2 percent. In Q4, MSC had sales of $727.4 million and a profit of $59.2 million. Average daily sales growth declined by 1.2 percent in September, 3.4 percent in October, 5.9 percent in November, and an estimated 1.5 percent in December. MSC has had declining year-over-year monthly sales each month dating back to July 2015. MSC's sales declined in all five geographic segments. Q1 sales to manufacturing customers declined by 4.9 percent, and increased 1.3 percent to non-manufacturing customers. Manufacturing customers comprise 69 percent of MSC's sales. MSC's e-commerce sales in Q1 2016 were $403.2 million, which was 57.0 percent of overall sales. That's up from 56.6 percent in Q4 2015.
MSC Industrial CEO Comments On Market Conditions, M&A Front: Along with its Q1 earnings report, MSC CEO Erik Gershwind and CFO Rustom Jilla hosted an investor presentation Wednesday morning, where the duo commented on today's tough industrial market conditions, as well as what the company's outlook is for future merger & acquisition activity. Melville, NY-based MSC cited low oil prices and foreign exchange headwinds as key factors for its sales and profit declines, the same factors that plagued industrial distributors across the market for the majority of 2015, especially its second half. MSC's Q1 report indicates that large distributors are likely in for more hard times. Gershwind also discussed whether current market conditions have altered the company's stance on future mergers & acquisitions.
Motion Industries Makes 3 Senior Vice President Appointments: Motion Industries on Thursday announced several key changes as part of the company's organizational structure alignment, according to Motion Industries' President and CEO, Tim Breen. The changes were effective as of Jan. 1, 2016. Randy Breaux assumed the position of Senior Vice President of Marketing, Distribution and Purchasing. In this new role, Mr. Breaux will retain current responsibility for Marketing and Strategic Planning, but gain overall responsibility for the additional areas as above. Breaux joined Motion Industries in 2011. Tony Cefalu was named Senior Vice President of Hose & Rubber, Shops and Service Centers. In this new position, Mr. Cefalu will continue to lead Motion's efforts for hose, rubber, and gaskets, and now has the added responsibility for Shops and Service Centers including Automation, Fluid Power, Pumps and Repair. Mr. Cefalu started his career with the Berry Bearing Company in 1983, which became part of Motion Industries in 1993. Kevin Storer was named Senior Vice President of U.S. Operations, President of Mi Mexico. Mr. Storer's new role will expand to include all U.S. branch and field sales operations. He will continue to have complete responsibility for Motion's Mexico operations. Mr. Storer began his career with Motion Industries in the West Group in 1987.