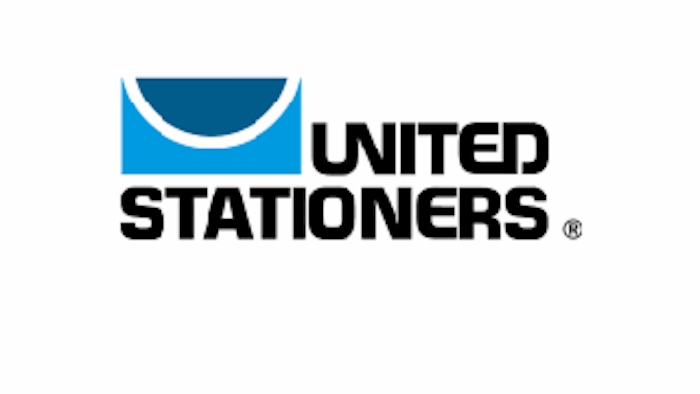 Since its founding in 1922 as Utility Supply Company, United Stationers has long been known as a wholesaler of business products such as office supplies and furniture. 
However, in the past few years, United Stationers has emerged as a major player in the industrial and janitorial areas through its acquisitions of companies servicing those sectors. The end result: United's industrial sales have increased markedly over the past several years.  
In its fourth quarter report ending December 31, 2012, United Stationers reported that its industrial supply sales soared 30.4 percent, its janitorial and breakroom category increased 1.9 percent, office products increased 1.2 percent, and furniture sales rose 3.9 percent.
Through its subsidiaries, United Stationers sells welding, safety, janitorial, paper, and other supplies to a wide range of the industrial sector.
Cody Phipps, president and CEO of United Stationers, recently told analysts in a conference call that the company's industrial business will now contribute more than 12 percent of its consolidated sales.
United Stationers has made a number of excellent acquisitions over the years that were designed to expand and complement its existing businesses. In 1996, for example, United acquired LagasseSweet, a distributor of janitorial and sanitary supplies and paper products.
It greatly expanded its industrial business when it purchased ORS Nasco in 2007 for $185 million. At the time, ORS Nasco, a wholesaler of construction, welding, and other supplies had sales of about $285 million. ORS Nasco had been established only four years earlier with the merger of Nasco and Oklahoma Rig & Supply.
And last October, United Stationers purchased O.K.I. Supply for an all-cash purchase price of $90 million. Based in Cincinnati, Ohio, O.K.I. was a welding, safety and industrial products company that had sales of approximately $150 million.
With the help of its industrial business, the company expects to grow its sales three to four percent in 2013, a softening from previous years' forecasts as orders moderated because of the economic downturn.
At the same time, United Stationers also said there would be a workforce reduction and facility closure program to reduce costs while allowing continuous investment in growth initiatives. In the first quarter of 2013, the company planned to take a pre-tax charge in the range of $9 to $11 million for closing certain OKI facilities, severance costs, and other related expenses. Its goal is to improve the effectiveness and efficiency of operations.
Those initiatives could include an expansion of its on-line ordering capabilities, Phipps said, according to a transcript of the earnings call provided by www.seekingalpha.com.
"We believe what's underfoot is that all of these products that we deal in are becoming digitized and they are moving online. So we also believe that consumer demand and consumer purchasing behavior is leaning to more of these products being purchased online and delivered directly," he said. "And so our belief is that it is shifting purchases away from brick and mortar stores into more of an online purchase. And we believe we're well-positioned to help our customers and suppliers participate in that."
United Stationers' actions have resulted in solid earnings. In the fourth quarter, United posted record revenue and earnings per share for both the quarter and for 2012.