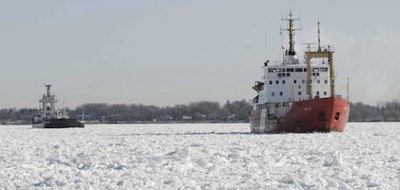 As quarterly earnings reports roll in for publicly-traded companies, it is apparent that the last quarter was not a great one for many industrial distributors despite the rise in sales which, in many cases, was due primarily to acquisitions and organic growth flat.
Yet many distributors say they're optimistic about 2014 and expect a number of sectors to rebound, including non-residential construction, petrochemical, and oil and gas.
Distributors were faced with a number of problems this past quarter, including the cold weather and wintry conditions that blanketed most of the U.S. – and that cold weather has also impacted January sales. Although sales for the quarter increased for most distributors, at least two CEOs said that the quarter was "disappointing" as acquisitions helped drive growth, but organic sales were flat or up only slightly. Many distributors had expected a sharp rebound in sales during the latter part of 2013.
"The extremely cold weather across large parts of the country are having an adverse impact on our sales," said Peter McCausland, executive chairman of Airgas, according to a transcript of the earnings conference call as reported by www.seekingalpha.com. "Current business conditions are sluggish and non-residential construction moved lower in the quarter."
Airgas will continue its growth through a series of targeted distributors. The Pennsylvania-based company, which has acquired more than 400 companies over the years, acquired nine businesses in its fiscal year with annual sales of about $70 million. The latest acquisition was the Encompass Gas Group which Airgas bought in October. Airgas, according to McCausland, expects to close on a number of small acquisitions before the end of the year.
McCausland said January had also started off slowly. However, the company said it expects "significant" capital spending by customers in 2014 with a large increase in the petrochemical sector. Industrial production and the non-residential construction sector will also improve, he said.
The weather, it seemed, created problems for distributors. Many companies shut down due to storms or cold and this meant that deliveries couldn't be made and construction work halted.
Grainger also reported that the weather affected sales.
Sales, including acquisitions, were flat during the first week in January then slightly increased during the next ten days. The weather and foreign currency exchange were blamed for the sluggishness in business both in the U.S. and Canada.
John Engel, chairman and CEO Wesco, the giant electrical/MRO distributor, recently said that one of the reasons his company got off to a slow start in January was because of the cold weather. Sales in January were tracking down 4% compared to the same time frame in 2013. The company now expects sales to be flat or up to 3% for the first quarter while sales for the year will increase 3 to 6%.
For the year, Wesco reported record sales and profits.