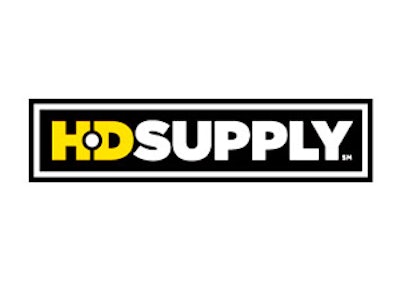 HD Supply is in the midst of rebranding to unify its business units under the HD Supply brand with new logos and business unit names, CEO Joe DeAngelo said in a conference call with financial analysts. As part of that rebranding, its White Cap construction business will now be referred to as HD Supply Construction and Industrial.
DeAngelo said there would be no material operational or financial implications with those changes.
"The branding is the outcome of listening to our customers and better understand how we can best deliver on our brand promised," he said, according to a transcript of the call as provided by www.seekingalpha.com.
DeAngelo made the comments after the company released its Q1 earnings report showing HD Supply had increased its sales 6%, the sixteenth consecutive quarter in which HD Supply recorded year-over-year average daily sales growth.
He also pointed out that HD Supply's business groups had seen sales increase as customers re-ordered products and work began on projects that had been put on hold because of the disastrous winter weather.
Quarterly sales for White Cap increased 11%. The company recently launched the spring version of its White Cap catalog in addition to introducing a new app that offers mobile purchasing solutions for White Cap customers.
Reaching customers through catalogs, Internet, and by mobile devices is one of the strategic plans for growth, as outlined by DeAngelo. He also said those plans include acquiring new customers, selling more products to existing customers, and opening new locations.
Evan Levitt, senior vice president and chief financial officer for HD Supply, said the company remains "cautiously optimistic" for its end markets this year. "Construction activity seems to be gaining traction … We are expecting an increase in the residential construction market in the mid-teens, low single digit increase in the non-residential construction market, down low single digit to flat power and municipal water market, and a stable MRO market with a 1% to 2% growth. These specific end markets implied approximate 4% 2014 market growth estimate for HD Supply."
Levitt said the company is also on track with its restructuring actions that were identified and initiated during the fourth quarter of 2013. The company estimates it will have a $5 million charge in the first half of 2014 associated with the actions and took a $3 million charge in the first quarter of 2014. It also expects to take an additional $2 million charge in the second quarter.
HD Supply announced last quarter that it was re-aligning staffing levels in its Power Solution Solutions Business and could possibly mean some facilities being closed.
The company also said it is on track to dispose of its Litemore lighting group, the largest electrical distributor in Canada. It is expected that a deal will be completed in the second quarter, company officials said.
---
For more news and opinions from Jack Keough, subscribe here and follow Industrial Distribution on Twitter at @InDistwebsite.