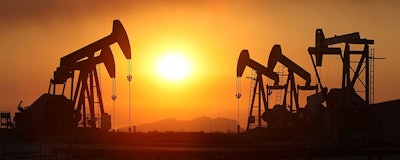 The recent up-and-down trend of the active U.S. rig count continued this past week, with Friday's count showing a modest loss while the price of oil ended the week more than a dollar less than where it started it.
Friday's count showed the U.S. lost four rigs last week, moving its active mark to 1,044. That figure is up 90 year-over-year (YoY), or 9.4 percent. Since peaking at 1,062 on June 8, the count has posted five weekly losses and three gains — falling by 18 overall.
Data from oilfield services provider Baker Hughes shows the U.S. lost two oil rigs and lost three gas rigs, with its oil rig count of 859 now up by 94 YoY (+12.3 percent), and its gas rig count of 183 down by six (-3.2 percent). The U.S. miscellaneous rig count fell from two to one.
Year-to-date, the U.S. combined rig count is up by 116 through 30 weeks of 2018, which has included 21 weekly gains, nine decreases and one hold.
Of last week's combined rig count, Wyoming added two, while Louisiana and Pennsylvania each added one. West Virginia lost three, Colorado and New Mexico each lost a pair, while Alaska and North Dakota lost one apiece.
Below is the daily U.S. rig count provided by Drillinginfo on its DailyRigcount.com:
Canada/North America
Canada's seasonal rig count gain may have come to an end last week, with its count staying put at 223. That figure is up by six YoY (+2.8 percent) and still up by 144 since bottoming out at 79 on May 11. Canada's current 152 oil rigs are up by 28 YoY and its 71 gas rigs are down by 22.
Friday's North American combined rig count of 1,267 fell by four from a week earlier and was up by 96 YoY, or 8.2 percent.
Oil Price Update
The price of WTI Crude oil had an overall decline last week, topping $70 Monday before falling for the next two-plus days and then recovering. Oil peaked Monday night, July 18 at $70.18 but fell $1.42 on Tuesday, declined another $.63 on Wednesday and reached as low as $66.98 early Thursday morning before a rapid jump to $69.30 six hours later. Oil closed Thursday at $69.02 and ended the workweek Friday at $68.89. It was at $68.80 as of 9:10 p.m. CT Sunday night.