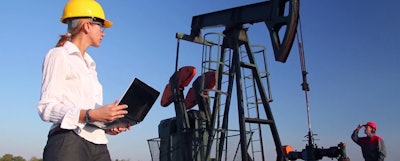 Friday's U.S. rig count saw its largest one-week decline since early last November, while the price of oil initially fell last week and then recovered into Monday.
Friday's count showed that the U.S. lost eight rigs, falling to a nine-week low of 1,046. That mark was up 96 year-over-year (YoY), or 10.1 percent. Data from oilfield services provider Baker Hughes shows the U.S. lost five oil rigs and lost two gas rigs, with its oil rig count of 858 now up 94 YoY (+12.3 percent) and its gas rig count of 187 up by one. The U.S. miscellaneous rig count fell from two to one.
Year-to-date, the U.S. combined rig count is up 117 through 29 weeks of 2018, which has included 20 weekly gains, eight decreases and one hold.
Of last week's combined rig count, New Mexico added four, while Ohio and Wyoming each added one. Texas lost five, Oklahoma lost three and Louisiana lost a pair, while Alaska, North Dakota and West Virginia lost one apiece.
Below is the daily U.S. rig count provided by Drillinginfo on its DailyRigcount.com:
Canada/North America
Canada's seasonal rig count gain continued last week, with it adding 14 rigs. Its count rose to 211, which was up five YoY (+2.4 percent) and up 132 since bottoming out at 79 on May 11. Last week Canada added three oil rigs and 11 gas rigs, with its oil rig count of 142 now up 24 YoY (+20.3 percent) and its gas rig count of 69 down by 19 (-21.6 percent).
Friday's North American combined rig count of 1,257 increased by six from a week earlier and was up by 101 YoY, or 8.7 percent.
Oil Price Update
The price of WTI Crude oil was up-and-down last week, ending the week about $1 below where it started and then climbing some Monday morning. Oil opened Monday, July 16 at $70.56 and immediately sunk to the $68 mark, and fell further on Tuesday to as low as $66.59 — its lowest price in about a month. Oil recovered for one day to near $68 before falling back below $67 overnight into Thursday, and then jumped back above $68 Thursday morning and held there. Oil closed the work week Friday at $68.12 and opened Monday at $68.15. It was at $68.76 as of 8:21 a.m. CT.