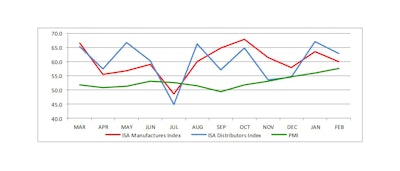 The Industrial Supply Association posted its March Economic Indicator Report on Tuesday, showing modest declines in both its Distributor Index and Manufacturing Index despite a continued rise in the Purchasing Managers Index (PMI).
ISA's Distributor Index had a February reading of 63.0, down 4.2 points from January. The decline came after a 12.6-point spike in January to an 11-month high of 67.2.
ISA's Manufacturing Index checked in at 60.0 for February, down 3.5 points from January, while the PMI rose another 1.7 points 57.7 — its highest reading since October 2014. The PMI — widely regarded as a good indicator of the overall U.S. manufacturing economy — has risen for six straight months since a 12-month low of 49.4 in September.
For all three indexes, a reading above 50 percent indicates expansion, while a reading below 50 indicates contraction.
February's readings indicate continued strong expansion for distributors and manufacturers — though at a slightly slower rate than January — while the overall manufacturing economy continues to improve.
ISA's Distributor members' largest indicated growth factors in February were Employment (78.6 in January to 87.0 in February), Supplier Deliveries (89.3 to 100.0) and Inventories (76.8 to 80.4). Declining factors included New Orders (55.4 to 41.3), Business Activity (55.4 to 39.1) and Sales Revenue (46.4 to 39.1).
Full anonymous distributor comments in ISA's February Economic Indicator Report were:
"January was good, but February was our biggest billing month ever. Hope this trend continues."
"Indicators are pointing up, numbers will increase as new orders are shipped and billed."
"Business is very good. I wish the dummies in Washington would get out of the way and let our new President keep improving our country. What's being done to our country should be a crime!"