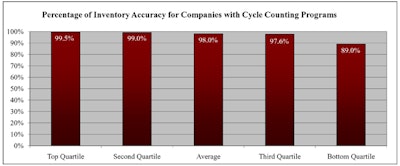 Tompkins Supply Chain Consortium Reveals Strategies for Saving Time in the Warehouse
RALEIGH, NC — Companies with a cycle counting program average 98% inventory accuracy, according to the survey-based Cycle Counting Report just released by the Tompkins Supply Chain Consortium.
"Cycle counting is critical to any company seeking higher inventory accuracy levels and greater efficiency in the warehouse," says Bruce Tompkins, Executive Director of the Consortium and author of the report. "A comprehensive program will eliminate the requirement and costs to shut down the entire facility one or more times a year to do a wall-to-wall physical inventory."
Tompkins notes that the additional benefits of a proficient program include reduced operating costs, higher service levels, improved shipping accuracy and lower inventory levels. "Cycle counting can also boost labor efficiency and product flow by identifying and correcting inventory discrepancies before they impact normal operations," he adds.
The report, which is based on a survey of leading manufacturing, retail and distribution organizations, also reveals that nearly half of companies still use a combination of cycle counting and physical inventory to verify and monitor accuracy.
Additional findings include:
Few companies (5%) still use physical inventory as their only means to verify and monitor accuracy;

Company and auditor policies drive many of the more frequent physical counts;

Cycle count frequency rises as the priority of parts increase; and

Scheduling cycle counts generally is the job of an inventory control specialist or an inventory control manager.
For more information, download the Cycle Counting Report at: http://www.tompkinsinc.com/publications/reports/cyclecounting/.
The Consortium also has a LinkedIn group and Xing group for organizations that are interested in staying current on the latest in supply chain benchmarking and best practices.
About Tompkins Supply Chain Consortium
Tompkins Supply Chain Consortium is the premier source for supply chain benchmarking and best practices knowledge. With more than 350 participating retail, manufacturing and wholesale/distribution companies, the Consortium sponsors a comprehensive repository of over 10,000 data points complemented by search capabilities, online analysis tools, topic forums and peer networking for supply chain executives and practitioners. The Consortium is led by the needs of its membership and an Advisory Board that includes executives from Domino's Pizza, Ingram Micro, Hallmark, Kane is Able, Miller-Coors, The Coca-Cola Company, Target and University of Wisconsin. To learn more about how your company can become a member of the Supply Chain Consortium, contact John Foley, 919-855-5461 or visit www.supplychainconsortium.com.