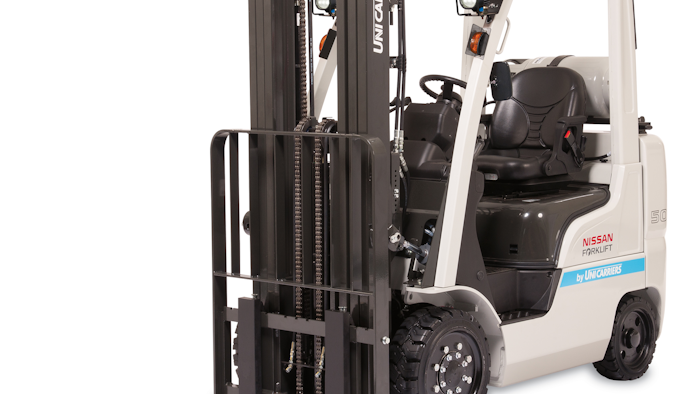 Marengo, IL – UniCarriers Americas Corporation made LED headlights standard on Nissan Forklift by UniCarriers Platinum II and GO4 series lift trucks, replacing halogen headlights on these models. LED headlights were a popular option on Platinum II and GO4 orders. LED lights are more durable, offer greater visibility, deliver a longer service life and are suited for high-vibration applications. With these new standard features, UniCarriers Americas has added a welded assist grip to the right-hand front pillar on most Platinum models. Additional options that are now available for these lift truck models include LED-type front turn signals and rear combination lights. GO4 models now have optional LED-type rear work lights. New options available on the Platinum II models include:
LED-type rear drive light
Acrylic non-glass mirrors
Rear, right-side assist grip with horn button
Self-adjusting, smart backup alarm
UniCarriers' comprehensive engine and transmission protection and warning systems to warn operators in the case of excessive heat or a severe drop in oil pressure, which extends engine and drive train life.
Seat-actuated Operator-Presence System that prevents use of lift and tilt functions when the operator is not inside the operator compartment.
A fuel-management system that optimizes engine performance for excellent fuel efficiency and reduced emissions.
For more information, please visit www.unicarriersamericas.com.