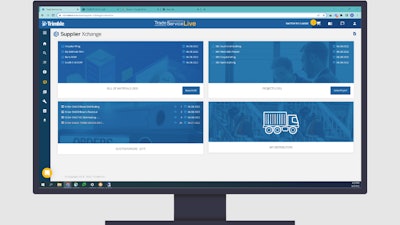 Trimble
LAS VEGAS — Trimble and Ferguson announced Monday that Ferguson locations nationwide have joined the Trimble Supplier Xchange digital pricing and procurement network, further digitizing the construction supply chain for mutual mechanical and commercial customers and increasing efficiency between construction teams and their most important business relationships.
"It has never been more critical to bring together technology solutions to make information sharing faster, more accurate and seamless across the construction supply chain," said Vice President and General Manager Lawrence Smith, Trimble Construction Management Solutions. "This data collaboration between Ferguson and Trimble brings greater efficiency, accuracy and speed to our customers' workflows between estimating, procurement, purchasing, accounting and project management."
Trimble's Supplier Xchange network facilitates more than 10,000 digital connections between specialty subcontractors and their preferred suppliers, handling an average of 130,000 quote requests per month with an average value of $18 billion per month.
The integration between Ferguson and Supplier Xchange allows contractors to get up-to-date, contracted pricing information and then turns that into a purchase order that flows into the contractor's ERP seamlessly, placing the order and accounting for it financially in the ERP immediately as well. The process takes far less time and reduces errors from manual entry due to the automatic sync of the PO.
"The use of Supplier Xchange together with Ferguson pricing and Trimble Construction One financial management creates a closed-loop system for receiving and accounts payable," said Chad Baxter, general manager, Miller Mechanical Contractors & Engineers. "We've eliminated the need to go between multiple digital and manual systems into just one that seamlessly syncs with the others, making us both faster and more accurate."
By joining the Supplier Xchange network, Ferguson, one of the country's leading commercial mechanical distributors, directly addresses the pain points across common workflows contractors often face.
"Digitally connecting with our customers is a priority for Ferguson," said Ferguson Commercial Construction Services and Technology Director Tom Sullivan. "As they increasingly seek ways to reduce costs and improve efficiency, accuracy and timeliness, Supplier Xchange will enable us to provide real-time customer-specific information, reducing the manual process and time required in the estimating, Virtual Design and Construction (VDC), purchasing, project management and accounting-related workflows."
The announcement was made at Trimble Dimensions 2023, where Ferguson and Trimble are both showcasing the Supplier Xchange network.