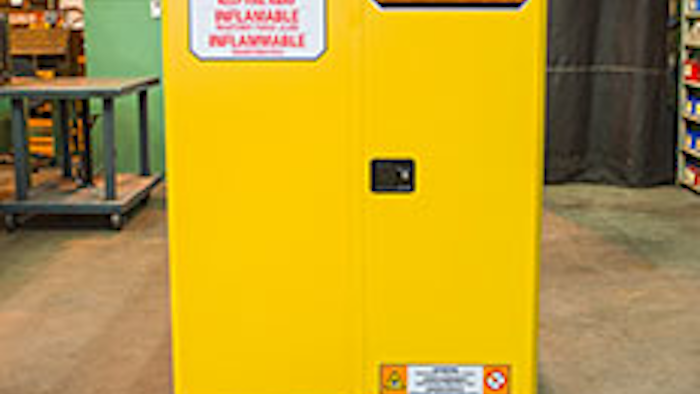 Sparks, MD - JOBOX® announced its new line of safety cabinets and cans with superior fire resistance for the industrial sector. The JOBOX Flammable Liquid Storage Cabinets went through rigorous testing and are one of the few flammable storage cabinets to earn the respected UL Listing. The cabinets feature double wall construction, durable powder-coat paint, and two-and-a-half-inch thick doors. The new line of cabinets include the patent-pending EZ Level Bolster System, which allows end users to level cabinets without blindly searching underneath to achieve the proper adjustment.  The shape of the bolsters also aids in tip prevention and gives the user the freedom to quickly and easily move the cabinet with the aid of a forklift or pallet jack. The EZ Level Bolster System makes leveling simple and safe. The anti-tip feature extends the base footprint beyond the width of the cabinet for improved stability and resistance to tipping. Features include:
Thicker, more robust doors, providing a 2.5² insulation gap between metal panels for added durability and safety
Continuous staked piano hinges further enhancing durability and security
Ultra-heavy duty, fully enclosed staggering mechanisms assuring doors close in the correct sequence, providing an adequate seal on the self-closing models
Slanted shelves that guide spills safely to the rear, funneling any liquids into a two-inch deep leak-proof sump in the base of the cabinet
For more information, please visit www.safety.jobox.com.