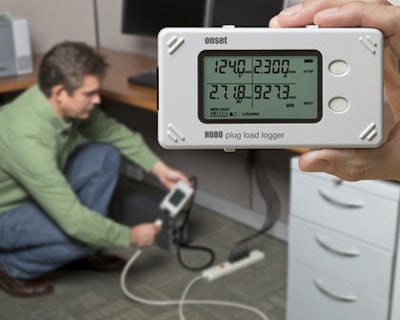 Bourne, MA — According to the U.S. Department of Energy, plug loads – or energy used by equipment plugged into an outlet – can account for up to 50% of a building's total electrical load. While minimizing plug loads can be an effective energy reduction strategy in buildings, it is often difficult for energy auditors and building management professionals to determine how much energy individual pieces of equipment such as computers, monitors, printers and other devices consume. To help solve these issues, Onset has announced the HOBO Plug Load Logger, a high-accuracy, easy-to-deploy data logger that measures and records the power and energy consumption of 120V plug loads from office equipment, vending machines, and other devices. The logger offers a number of key advantages:
.5% measurement accuracy enables more reliable plug load energy use data
"Meter Mode" provides instant viewing of real-time plug load variables
Large memory enables faster logging intervals for more comprehensive plug load profiles
Battery backup ensures logged data remains intact in the event of a power outage or load failure
Full-featured LCD display provides visual diagnostics for easy deployment
Accompanying HOBOware® software for graphing and analyzing plug load data
For more information, please visit www.onsetcomp.com.