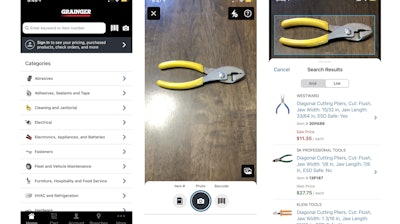 Mike Hockett/Industrial Distribution
Given MRO products supply giant Grainger's scale and expertise in e-commerce — about 71 percent of all third quarter sales came via digital channels — it seemed inevitable that the company would provide a way for customers to find a Grainger product without even typing it into a search bar.
The distributor — No. 1 on Industrial Distribution's Big 50 List — has done just that via a new tool in its mobile app available as of October: Search by Image.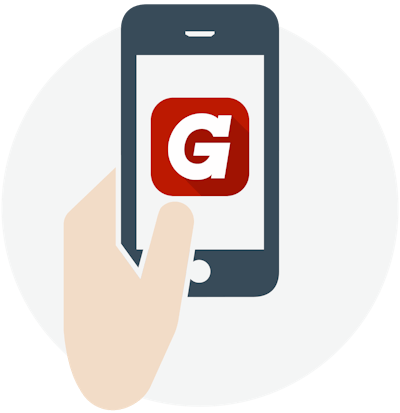 At the top of the Grainger app home screen, a user simply clicks the camera icon and then takes a photo of any product just like they would with their native camera app. The app takes just a few seconds to analyze what's in the photo, and then brings up the closest-matching products it can find from Grainger's 2+ million product inventory. It also allows users to upload an existing photo and have it analyze that in the same fashion.
From there, the user can select the item from the app and complete a mobile purchase for it.
Customers can likewise use the app to scan a bar code or enter an item number if they are looking for a specific item.
While Grainger hasn't shared details on customer usage of the new Search by Image function, its applicability is easy to surmize. This can be a very useful tool for those on construction sites, maintenance and utility professionals, labor contractors of all kinds, as well as do-it-yourself customers.
I just tested the tool myself at my work desk, and it indeed quickly identified a pad of sticky notes, my computer mouse, a beverage tumbler and pliers and provided close-matching Grainger products for each.
The new app tool comes more than 2 years after Amazon rolled out its similar Part Finder tool in its mobile app, which works essentially the same way as Grainger's. Part Finder was specifically geared for identifying fasteners, but appears to have since been rolled into Amazon's general image search function. The Home Depot also has an image search function, whereas the apps for rival home improvement retailers Lowe's and Menards do not as of early November.