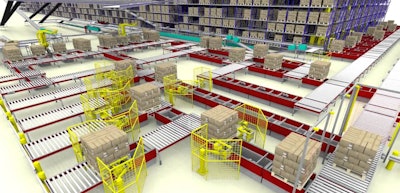 Companies in the sprawling Los Angeles metro area are building new warehouses to accommodate growing demand from e-commerce.
But advances in automation and robotics, as the Los Angeles Times notes, mean that massive new facilities don't necessarily translate to more jobs.
Federal labor statistics showed that employment in California warehouses grew by double-digits in 2014 and 2015 following stagnant growth in the wake of the Great Recession.
The 12-month period ending in October 2016, however, showed an increase of just 3 percent in those jobs.
Warehouse jobs are still on the rise, and companies noted that they are far more efficient and often pay better since they need personnel to work alongside automated systems.
Industry analysts, however, worried about the future of distribution jobs as robots become increasingly prevalent. The warehouse sector employs about 880,000 generally blue-collar workers across the U.S., including more than 100,000 in California alone.
Footwear company Skechers, for example, employs 550 people at a sprawling new warehouse in Moreno Valley, but that operation replaced five facilities in Ontario, Calif., that formerly employed 1,200.
And although Amazon added some 50,000 warehouse workers since 2014, it also added another 30,000 robots. Many of those robots are the squat, square-shaped design developed by Kiva, which was acquired by Amazon in 2012.
The robots allowed Amazon warehouses to cut the time from order to shipment by up to 80 percent, as well as improve inventory space by 50 percent.
"There are a lot of people doing traditional warehouse work, but that will change," John Husing of the Inland Empire Economic Partnership — home to many of the state's warehouse jobs -- told the Times.