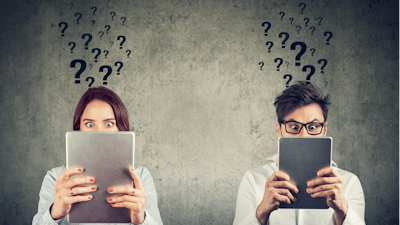 iStock
Spend a day with your sales reps and you'll quickly realize why they only spend 33% of their time selling. It's not out of laziness — they aren't set up to be productive.
Keep reading to learn our top five tips to boost sales reps' productivity, save hours each week and spend more time selling.
1. Work Out of a Single Screen
Data published in the Harvard Business Review sheds light on the interesting reality of doing business in the digital age. Researchers found that employees switch between windows, tabs and applications almost 1,200 times daily.
The data also illuminates the following:
On average, it takes around two seconds for employees to reorient themselves after switching tabs or toggling to a different application.
These employees, in turn, spend nearly four hours each week figuring out what to do next upon moving to a new window, tab or app.
Four hours a week of misused time equates to almost one-tenth of employees' annual time at work.
So it's simply not productive if your sales reps are switching between multiple tools like a CRM, ERP, PIM, e-commerce website or Excel. To give reps their time back, centralize the tools they use on a single screen or window.
The Harvard Business Review study also found that "after 65% of switches, users toggled to yet another app less than 11 seconds later." This means that over one-third of the time, employees have to refocus and reorient themselves roughly every 10 seconds.
Given this information, it's clear that working out of a single window saves time and can even help with concentration. One way to do this is by using a distribution-specific CRM that centralizes ERP, PIM and e-commerce data, giving reps visibility into customers, products, outstanding quotes, online browsing activity and more on a single screen.
It's important to note that a traditional CRM may not have the capabilities to organize all relevant customer and product information in a single interface. On the other hand, a CRM platform purpose-built for distributors can minimize the complexity of selling a large product catalog, and help your reps streamline sales processes and make more sales.
2. Plan for Meaningful Conversations
Meaningful conversations with customers don't just happen — they take planning. Reps need to know how much a customer spends, what they've bought in the past, what they've recently ordered and browsed online.
Accessing a wide range of helpful customer insights is a hurdle for many distributors. For this reason, reps spend their time sleuthing for customer information that can drive engaging conversations instead of selling, building customer relationships and growing accounts.
Your team needs a CRM platform that automatically logs each customer interaction, keeps all data in one place, and leverages AI to identify and pitch products that will convert. It takes the manual work out of planning for sales calls and provides instant visibility of the data reps need to succeed — and all from one screen.
3. Collaborate the Right Way
Reps have to collaborate to move opportunities along. For example, it's typical for an outside sales rep to lean on an inside rep to relay product information to a customer or to ask the customer service team to send a quote. Traditionally, these conversations and requests take place over the phone or email.
But for the typical distributor, this traditional process is a headache. Many inside sales reps have a hard time building working relationships with the company's customer service team. In turn, the latter gets inundated with quote-creation request emails, stalling deals and causing frustration among sales reps.
When you empower reps with a tool that makes it easy to collaborate in an intuitive way, you free up their time. Think about the time saved if reps could ditch time-consuming emails and instead tag each other in call notes for quick collaboration, or assign tasks on the fly.
4. Keep Information at Their Fingertips
Usually, when a customer asks a rep a question about product specs, reps must search through internal storage drives like Sharepoint or Google Drive, or look up items on their company's e-commerce website to find spec sheets that they can send. Unsurprisingly, getting access to the information they need is a time suck for most reps.
Distributors can free up a lot of time for reps by using an AI tool that can easily search through all documents, product descriptions and attribute data to locate the needed information.
Proton's AI technology, for instance, makes this process easy through semantic search. Semantic search recognizes similar words – such as "blue" and "navy" – so even if reps don't search the exact name of the product they're looking up, the search will still produce the right results in a matter of seconds.
5. Eliminate Guesswork
Distributors are unique because they often sell thousands or even millions of SKUs. This sheer volume of products can make it challenging for reps to know who to talk to or what to sell.
You can make your reps more productive and save them a ton of time by removing the guesswork and highlighting accounts with the greatest opportunity. If this sounds like science fiction, we promise it's not.
Artificial models can analyze your customers' transactional history to generate sales plays that guide your reps. AI that's purpose-built for distributors can give reps a daily call list organized by revenue potential – highlighting sales opportunities and churn risk – so reps can engage the right customer with the right message at the right time.
There are several ways that distributor sales reps can get back their time and increase productivity. By working from a single screen using a distribution-specific CRM, reps can streamline sales processes and make more sales. Planning for meaningful conversations with customers and using an AI-driven CRM platform can help reps access important customer insights and pitch products that will convert to revenue. Collaborating in an intuitive way, automating routine tasks and focusing on high-value activities can also help reps save time and increase productivity.
Implement these strategies to free up your reps' time, allowing them to focus on what they do best — selling.
Benj Cohen is the founder and CEO of Proton.ai.