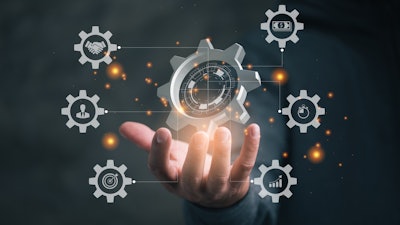 iStock
In these turbulent and trying times, minimizing customer churn is everything. Customers are revenue, and losing them jeopardizes growth. To retain their customers, wholesale distributors need to deliver superior customer service. Sixty-six percent of American adults list customer service as a "very important" factor in whether or not they trust a brand. As the Forbes piece reiterates, winning this trust means offering a humanized experience.
"Humanized" can sound like a fluffy, abstract word. What does it mean in practice? It means establishing business processes that enable the staff tasked with customer service to focus 100 percent on the high-value, interpersonal parts of their job. It means freeing customer service representatives (CSRs) from mundane data entry, so that they can focus on delighting the people who pay for your product.
The quickest way to do this? Automation.
Unprecedented Disruptions Hamper Customer Service Quality
Even before COVID-19, most CSRs spent far too much time on low-value activities such as data entry. These activities diverted them from the tasks that humanize the customer experience. Taking the time to engage patiently with customers. Working through a complex issue on the phone. Troubleshooting. Upselling and cross-selling. All of these important tasks were deprioritized, because CSRs were swamped with repetitive manual processes.
As COVID-19 has forced distributors to shift their customer service staff to remote working arrangements, the situation has gone from bad to very bad. Many CSRs don't have access to their usual tools, making them even less productive than usual. Communication with colleagues is harder. Certain branches or locations can open, and others can't.
We are in a difficult moment for businesses. The World Bank is forecasting that this recession "will be the deepest since 1945-1946." This means it is harder than ever to retain customers – and at precisely the same moment, it is harder than ever for many CSRs to do their job well. This is a recipe for trouble.
How Automation Can Make Customer Service Human Again
Among the time-intensive, low-value processes that distract CSRs from real customer service is manual order processing. Across the distribution and manufacturing sectors, CSRs spend approximately a third of their day manually converting purchase orders into sales orders. In 2019, around half of all US manufacturing and distribution sales were manually processed; $8.4 trillion in business-to-business sales.
The manual conversion of purchase orders into sales orders doesn't only take time and distract from customer service (at a time when customers require more one-on-one support than ever). On top of this, it is prone to clerical mistakes. Backlogs pile up overnight. It takes overtime to process them as quickly as you need. This becomes a costly endeavor. The processing cost reaches an average of $26 per order.
Happily, there is a better way. Using digital automation, this manual approach can be modernized. With the right SaaS platform, distributors can implement the automatic conversion of emailed purchase orders into sales orders. The orders are entered into the company's ERP in seconds, with zero CSR involvement, and with 100 percent accuracy. This technology already exists in the market and onboarding only takes 30 days or less.
Once onboarded and deployed, sales order automation dramatically reduces the workload of CSRs. Typically, every CSR wins back a third of their workday. With the hours regained, they can focus on the activities that minimize churn and maximize retention.
Customer Service Equals Customer Retention in Hard Times
No-one knows what the coming months will look like. A COVID-19 vaccine still seems a long way off, and second waves are very possible. The disruptions that have simultaneously made customer service both more important and more difficult will be with us for the foreseeable future.
The distributors that achieve true business resiliency will be those that satisfy their buyers by elevating the customer experience. In the coming months, the enterprises that can offer superior customer service will be the ones that stay competitive. Sales order automation gives CSRs the time they need to:
Rapidly speak and engage with customers about orders and issues;
Dynamically follow up, fix concerns, and focus on the customer's needs;
Quickly ensure fast and prompt deliveries, resulting in customer delight and trust.
Even if economic pressures force leaders to reduce headcount, the added capacity created by sales automation will enable them to prevent standards from slipping.
The Final Word
Swapping the dated for the modern creates the future-proof business processes that are the foundation of resiliency. When the next crisis comes, the enterprises that optimized their operations now will be the ones that can weather the economic storm. Forbes recently published an article that explored "10 Examples Of Amazing Customer Service During COVID-19." The examples cited in the article range from the serious to the light-hearted, and most of them have a B2C flavor. However, all of the examples have one thing in common: They humanized the customer experience.
Ray Grady is President & CEO of Conexiom, a provider of business automation software. He brings more than 20 years of experience in scaling high-growth B2B organizations, and leads the company in designing and executing Conexiom's vision, strategic growth plans and company operations. Grady came to Conexiom from Salesforce B2B Commerce, where he held the role of SVP, COO and GM. Previously, Grady was President and COO of CloudCraze, where he led the company through its 2018 acquisition by Salesforce. Grady's extensive experience also includes roles as SVP and GM of Acquia, one of the fastest-growing SaaS providers in the world, and the co-founder of Acquity Group, which went public in 2012 before being acquired by Accenture Interactive in 2013.