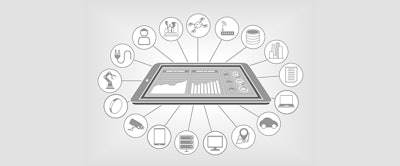 In the early days of my career, when I would tell people I worked for an electronics distributor, their eyes would light up with fascination. The era of personal electronics was just dawning and the public was mesmerized. Once I clarified that I worked primarily with industrial manufacturers, their eyes would instantly glaze over. While consumer electronics was considered sexy, the industrial sector was more utilitarian. Critical of course, but hardly fodder for cocktail party chitchat.
People's reaction today might be the same, but the industrial sector has changed dramatically over the past several decades. With growing adoption of game-changing Industrial Internet of Things (IIoT) technologies and cloud-based tools and platforms, the sector is becoming, dare I say, pretty darn cool.
Though a little later to the IoT party than the consumer segment, leaders in the industrial supply chain are engaged now — leveraging an expanding catalog of embedded and cloud-based technologies to maximize their productivity and efficiency. For example, OEMs or distributors may use wireless sensors to monitor inventory levels in parts bins and send replenishment orders directly to a cloud-connected ERP system. This solution can reduce the number of labor hours dedicated to manual inventory monitoring and increase order accuracy, thereby minimize the need for reserve supplies. Embedded sensors can also monitor physical assets to ensure they are working properly, avoiding costly equipment downtime.
This digital transformation will undoubtedly be more difficult for small to medium-size enterprises (SME) in the industrial sector. Many of these companies are still entrenched in a traditional "brick and mortar" business model. But, as overwhelming as it may seem, this journey can be undertaken like any other: one step at a time.
One Percenters
Let's start with a little perspective. Today, the development and commercialization of industrial IoT technologies is really just starting to gain traction. Even many of those on the IIoT frontlines are still in the very early stages of adoption. For example, McKinsey & Company investigated the use of wireless sensors to collect information including pressure, temperature, and flow measurements in offshore oil rigs. Their analysis revealed that less than one percent of the information gathered from more than 30,000 separate data points was being analyzed. Clearly, this process is far from optimized.
What these companies are learning, some more quickly than others, is that just as harnessing the full capacity of the physical supply chain is necessary to differentiate businesses, the greatest potential of the IIoT lies in optimizing the Supply Chain of Things (SCoT)™ — the complete ecosystem of hardware, software, cloud technologies and data analytics that are both driving, and being driven by, the IoT.
Stacking the Deck
One rapidly emerging segment of the SCoT is the "startup stack." This ecosystem of cloud-based tools and open-source software is designed for, and largely by, startup enterprises to build and scale their businesses more quickly and cost effectively. Though touted as the "secret sauce" of entrepreneurs by UK-based startup accelerator Tech City, these tools, generally offered on a "pay-as-you-grow" basis, can be of particular value to small companies within the industrial supply chain who have fallen behind the technology curve.
To stay competitive, businesses big and small are often advised to "think like a startup." Leveraging the tools within the startup stack to outsource or automate resource-intensive business functions including analytics, payments processing and collaboration won't magically change your company culture, but it can enable business owners to focus on more strategic transformation initiatives.
Just Us
One of the most critical determinants of success in the digital era will be the degree to which established companies are able to shed the legacy "us vs. them" mentality. Replacing a zero-sum economic paradigm with an ecosystem model driven by collaborative innovation is the future. The power of this collective approach to business is epitomized by the phenomenal growth of the maker movement. From a grassroots assembly of craftspeople and wannabe techies who macgyver old computers into snack-fetching robots, making has morphed into a seemingly boundless fount of innovation and productivity with powerful economic implications.
Though makers and their sometimes unconventional creations may seem far afield from the industrial supply chain, their value should not be underestimated. These innovators represent tomorrow's customers, suppliers, competitors and colleagues, and the advances in both product and process technologies they continue to develop will become integral resources for businesses of all sizes, across many market segments.
Revolution in Progress
Since Avnet launched MakerSource.io and acquired Hackster.io, I have had the opportunity to meet a number of makers at varying stages of their business development. I'm fascinated by the dichotomy inherent in today's high tech makers. On one hand, they have all the bravado and drive of a stereotypical Silicon Valley entrepreneur. The energy they bring to the room is palpable. At the same time they embrace the concepts of crowdsourcing, shared workspaces and a dedication to the "democratization" of manufacturing. On paper this combination doesn't seem like it should work, but in action, these individuals are laying the groundwork for entirely new, more fiscally and environmentally sustainable business models.
Makers are a community drenched in inspiration, tapping into the very core of America's innovative spirit. This is no fad. There will be no bubble to burst. Technologies like IoT and the collaborative dynamic of the maker movement are forging the path for organizations to build mindshare, create customer loyalty and drive profits to the bottom line. As a member of the industrial supply chain, you have two options: get on board or get displaced.
Alex Iuorio is the Senior Vice President of Supplier Development at electronic components distributor Avnet.