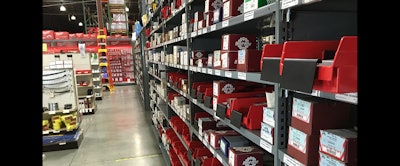 The implementation process of vendor-managed inventory (VMI) has been radically simplified. Thanks to cloud computing, developing or introducing supply chain improvements is faster and easier than ever. However, the steps to adopting a new technology remain consistent. Your company needs an inventory management solution that meets your specific requirements, therefore, you must first ascertain whether or not a VMI solution will work for your company, and then outline the steps you need to take in order to meet the goals you establish.
Is VMI right for your company?
There are certain signs that would indicate if your company would benefit from VMI. These situations represent lost revenues and injure your business reputation, such as:
Frequent out-of-stock situations and delivery frustrations that cause a loss in sales
Shrinkage rate percentages continually increase
Turn rates are consistently longer, even when employing first-in, first-out (FIFO)
Also, take into consideration the relationships your company has with manufacturers. Have you worked with them a long time? Do you have an established sense of mutual trust? These are key factors to a successful VMI program.
What are your goals?
During the initial stages of development, companies must pinpoint both their short-term and long-term goals. Establishing specific key performance indicators (KPIs) that measure the influence of the plan gives you a strong starting point when constructing your VMI contract. Common measurements include:
On-shelf availability
Inventory parameters for replenishment
Cycle time, substitution guidelines and order management policies.
In addition to determining KPIs, make certain that both parties have a clear understanding of each part of the plan. This includes making sure all partners are using the same definitions for business and process terminology. While each partner uses the term "inventory," one may define it as what is sitting in their stores, another as what is in the distribution center and yet another as inventory that has been ordered and is in transit.
What capabilities do you need in VMI solution?
While a collaborative partnership is important to a successful VMI program, the cornerstone to your program is your software and IT infrastructure. The VMI software solution you choose must be able to communicate with your current enterprise resource planning (ERP) software or manufacturing execution system (MES) as well as your partner's systems in order to develop high end-to-end visibility and KPI monitoring. Make sure to ask how the VMI solution integrates with existing solutions and how it harmonizes data with these systems to ensure all partners are looking at the same data.
Since all VMI partnerships are unique, look for a solution that not only integrates with current systems but also provides the flexibility and scalability needed for future partnerships. Look for a solution that has a modular design that allows your company to construct a comprehensive, yet individualized VMI program and with the ability to further roll out enhancements as your needs expand and evolve.
The increased reliability of data, combined with the ease of implementing cloud-based VMI solutions, has contributed to the gaining popularity of VMI programs — making it likely that your competitors are already taking advantage of its benefits. Taking the time to answer these questions will help your company determine how it too can benefit from a VMI program, and take the initial steps to implementing the program.
Paris Gogos is Vice President of Product for Chicago-based NeoGrid North America, which delivers quick time to value through its fast-to-implement next generation supply chain solution — providing analytics, planning and execution from production to store shelves in a global cloud-based platform.