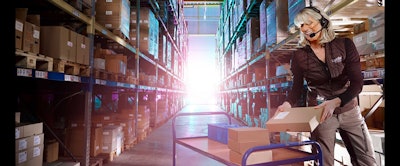 Voice technology has already been used in warehousing operations for several decades, but only recently has it really gained steam.
In July 2015, a Honeywell survey of hundreds of 263 distribution center IT decision makers at companies with at least 500 employees across the U.S., U.K., Germany and France showed that 87 percent of U.S. respondents plan to adopt voice direction — using wireless headsets to direct warehouse workers with voice commands — within the next five years. That figure was at 94 percent for Germany, 82 percent in the U.K. and 78 percent in France.
A couple other notable data points from that survey:
Eighty-two percent of IT managers in Germany revealed that if they were adding technology to their distribution center strategy, voice would have the biggest impact on workflows this year

Nearly 25 percent of distribution center workers around the world do not speak the local language, requiring a need for technology solutions that support multiple languages and facilitate rapid onboarding and training of new workers

Survey findings report that the average global cost of one picking error is $59, resulting in distribution centers losing on average more than $400,000 annually on mispicks
ID recently spoke with Scott Deutsch, North American President for supply chain software provider Ehrhardt + Partner, to get his thoughts on the current state of voice technology in warehousing operations today. E+P recently announced the launch of its new soltuion, Lydia Voice, a software solution for voice-controlled workflow processes that offers a wide-range of voice-guided systems for intralogistics, manufacturing, service, maintenance and quality assurance.
Here's what Scott had to say:
ID: Can you provide a brief history of voice technology in warehouse operations? How has it evolved?
Scott Deutsch: Voice technology for the warehouse worker has been around for over 20 years and was created by the team at Westinghouse in Pittsburgh. As the marketplace expanded, so did the many uses of voice technology. The industry has dramatically changed over the last 3-5 years due to three main reasons:
Technology in the marketplace and access to this technology has changed. It used to be very controlled
Reduction of cost from infrastructure
Integrations of real-time interfaces between voice and WMS has enabled a seamless experience for customers
ID: With all of the talk of warehouse automation and warehouse technology being implemented, would you say voice technology is being properly pursued by manufacturers/distributors? Or has it been flying under the radar?
Deutsch: That's an interesting question. I think voice technology has been flying under the radar. The original organizations who adopted voice tech over the last 20 years were organizations who were primarily looking to reduce costs. Grocery businesses, for example, were looking to positively impact cost structures, since they operate on such small profit margins and also to improve worker throughput, which was a quantitative component to their reducing operating costs.
Manufacturers have begun to take note that voice technology is no longer simply a technology that will drive cost reductions. In fact, cost reductions are no longer the driver of this technology. Many manufacturers have begun implementations to improve accuracy of inventory and to resolve space issues in their warehouses and facilities. When you can integrate voice and Warehouse Management Systems, you can achieve better accountability and visibility to workers on the floor. Additionally, some businesses now offer employee performance incentives as a way to retain their workforce. With voice technology, these businesses are able to access analytics that quantify incentives easier and more accurately.
ID: Is voice automation appropriate for manufacturers/distributors of all sizes to pursue, or does it make more sense for mainly the larger ones?
Deutsch: Voice automation is not for everyone. In general, I believe you need to have at least 10 workers in your warehouse between the receiving, picking and shipping departments for voice automation to be an appropriate choice. This is driven by a detailed ROI and breakeven analysis that every prospect would internally review in order to justify the resource and funding commitments.
ID: How does voice technology increase efficiencies and safety in warehouse operations?
Deutsch: There are two parts to this question and we have to look at efficiency and safety separately.
The key to improve efficiency is to take the decision out of the user's hands. 60 percent of worker time is spent traveling throughout the warehouse floor. Voice technology can reduce the time that the worker uses to pick by giving them the most efficient path through voice-directed workflows If organizations are looking for cluster or batch picking (and their WMS supports the functionality), voice technology immediately reduces the amount of travel time needed and improves overall workflow processes.
Voice technology is extremely effective when it comes to safety as it inherently removes the need to use your eyes to look at a handheld scanner. Removing this need ensures workers' heads are up and their eyes and hands are free — workers' eyes are focused on the task at hand and not distracted by looking at a screen or handling the scanner. Organizations are now also using voice tech integrated with apparel called "voicewear". Voicewear removes the need for a headset and eliminates another distraction for workers. Think of this as Hands-free, eyes-free and headset-free. The optimum solution in worker efficiency and worker safety.