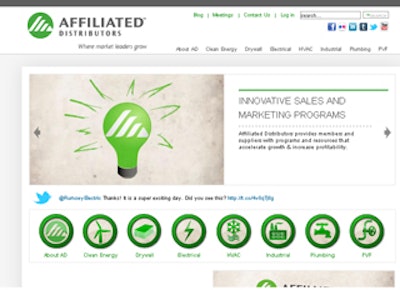 Affiliated Distributors Launches New Public Website to Engage & Connect Their Members, Suppliers & Reb Associates
Wayne, PA - Today, Affiliated Distributors (AD) launched their brand new public website: www.ADHQ.com.
According to AD's Chairman and CEO, Bill Weisberg, "AD has a very transparent and inclusive culture; our new public website engages the 100,000 plus member, supplier and rep employees within our community without the need for log-in passwords. Our new website contains a wealth of information about AD, dispels some of the false notions out there about us and connects and promotes our market leading distributors and manufacturers and reps all year long."
New elements of ADHQ.com include the use of videos to tell the story of AD and its market leading independents, industry specific blogs and the integration of social media throughout the site. Bill Weisberg also has his own blog to share his thoughts and opinions throughout the year.
"One of the areas of the site that I am most excited about is the Giving Back section of our blog," shares Weisberg. "Here we will be able to highlight the work that AD independents and manufacturers are doing to make their communities a better place to live. Our members and our vendors recognize how fortunate we all are and that it's our responsibility to help others."
Affiliated Distributors worked with a local and independent, Philadelphia based creative design agency, King Design LLC, who translated the mission of AD into a state-of-the-art and accessible website.