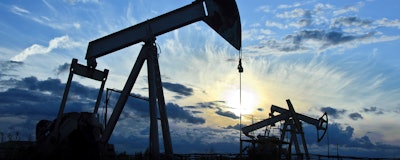 The active U.S. rig count continued its long-standing climb last week with a sizable gain, while the price of WTI Crude oil fell nearly $6 over the course of a week through Monday morning.
The combined active oil and gas rig count climbed by 13 last week to 1,049 — its highest count since March 20, 2015 (1,069). It was the count's eighth-straight increase, with data from oilfield services provider Baker Hughes showing the U.S. added 15 oil rigs and lost two gas rigs. The current U.S. oil rig count of 859 is up 137 year-over-year (YoY), or 19.0 percent and is at its highest mark since March 13, 2015 (866). The active gas rig count of 198 is up 13 YoY, or 7.0 percent. The U.S. miscellaneous rig count remained at two.
The U.S. combined rig count has increased by 130 so far through 21 weeks of 2018, which has included 16 weekly gains, four decreases and one hold.
Of last week's combined rig count, Texas added nine, Alaska, Colorado and Oklahoma each added two, while North Dakota and West Virginia added one apiece. Kansas, Louisiana and New Mexico each lost one.
Below is the daily U.S. rig count provided by Drillinginfo on its DailyRigcount.com — a microsite that utilizes data from GPS tracking units and publicly-reported information to monitor oil and gas drilling rig movements in the U.S. Unlike raditional rig counts — such as those from Baker Hughes — typically define a rig as active only when it is "turning to the right," and have been released on Friday afternoons every week since 1944, whereas DailyRigCount defines a rig as active from the time a GPS tracking unit identifies it at a permitted oil and gas drilling location until the time it leaves, and is released daily.
Canada/North America
Canada's large seasonal rig count decline appears to have ended, but it has yet to have sustained success. Its count fell by two last week after adding four the week before. Friday's combined count of 81 was down by 12 YoY, just up from a low of 79 on May 11.
Canada lost three oil rigs last week and added one gas rig, with its 35 oil rigs now down by five YoY and its 46 gas rigs down by seven.
Friday's North American combined rig count of 1,140 increased by 11 from a week earlier and was up by 139 YoY, or 13.9 percent.
Oil Price Update
Oil began last week on a high note, reaching $72.35 on Monday, May 21 — its highest mark since the first week of December 2014. But it took a steady, modest decline throughout the week and then plummeted over the Memorial Day long weekend. Oil was still at $70.00 early Friday morning before its slide accelerated. It closed the work-week Friday at $67.47 and fell as low as $66.01 late Sunday night before a modest recovery throughout Monday. Oil opened Tuesday at $66.84 and was at $66.98 as of 8:48 a.m. CT.