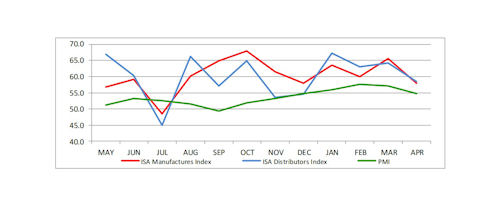 The Industrial Supply Association posted its April Economic Indicator Report on Thursday, showing slower growth for both its distributor and supplier members that corresponds with the decline in April's Purchasing Managers Index (PMI) issued by the Institute for Supply Management.
ISA's Distributor Index had an April reading of 58.5 — 4.5 points lower than March. It broke a three-month streak of that index holding at 63.0 or above.
ISA's Manufacturer Index had an April reading of 58.0 — 7.5 points lower than March. It's only the second time that index has fallen below 60.0 since July 2016 (December being the other).
The PMI — widely regarded as a good indicator of the overall U.S. manufacturing economy — fell 2.4 points from March to April. It was the PMI's second-straight decline since peaking at 57.7 in February.
For all three indexes, a reading above 50 percent indicates expansion, while a reading below 50 indicates contraction.
April's readings indicate continued expansion for ISA distributors and supplier, though at a slower rate than in March. Likewise, the overlal manufacturing economy continues to expand at a slower rate.
ISA Distributor members' notable declining factors in April were:
New Orders — 42.6 in March to 32.8 in April
Business Activity — 48.1 to 39.7
Employment — 85.2 to 81.0
Sales Revenue — 44.4 to 31.0
Anticipated Business Conditions — 74.1 to 65.5
Anticipated New Orders — 72.2 to 65.5
Meanwhile, the factors of Supplier Deliveries (96.6) and Inventories (81.0) had slight increases and Imports held steady (87.5).
Anonymous distributor comments in ISA's February Economic Indicator Report included: 
"The 2017 year started out very well but has since slowed considerably."
"While order entry is tracking ahead of 2016, March has proven to be the shinning star. Will be measuring May to see if it will be better than April.'
"April was a short month so our numbers were down from March, plus tax season always seems to stall procurement decision-making. Orders are up from last year at this timeline. Activity is stronger and we expect there to be more momentum in the coming months."
"Little flat this month but we expect things to keep growing."
"Business is strong in several segments. Customers are dragging out terms though and its harder to get paid. Both inventory and DSO are up along with an increase in sales."
A handful of distributors also noted April 2017 having one less business day than in 2016 as being a factor into their sales numbers.