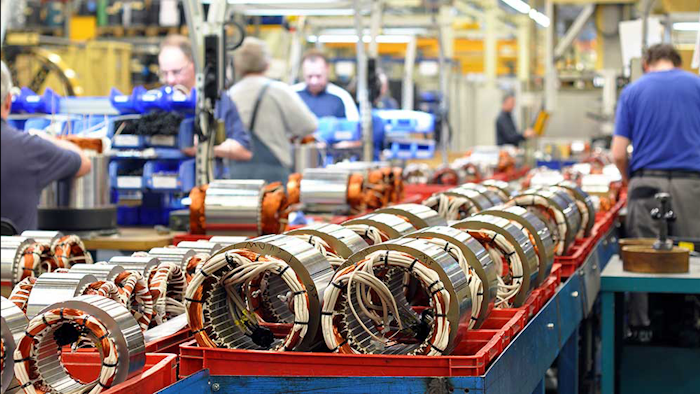 Industrial production advanced 1.0 percent in April for its third consecutive monthly increase and its largest gain since February 2014. Manufacturing output rose 1.0 percent as a result of widespread increases among its major industries. The indexes for mining and utilities posted gains of 1.2 percent and 0.7 percent, respectively. At 105.1 percent of its 2012 average, total industrial production in April was 2.2 percent above its year-earlier level. Capacity utilization for the industrial sector increased 0.6 percentage point in April to 76.7 percent, a rate that is 3.2 percentage points below its long-run (1972–2016) average.
Market Groups
The indexes for most of the major market groups recorded substantial increases in April. The output of consumer goods rose 1.5 percent. The output of consumer durables jumped 3.0 percent as a result of sizable increases in the indexes for automotive products and for appliances, furniture, and carpeting. The production of consumer non-energy nondurables rose 1.2 percent, and the output of consumer energy products moved up 0.8 percent. With all of its components registering increases, the index for business equipment advanced 1.2 percent; the output of defense and space equipment fell 0.5 percent. The index for construction supplies edged down 0.1 percent, while the index for business supplies moved up 0.6 percent. The production of materials increased 0.8 percent, with a gain of about 1 percent for energy materials and gains of about 1/2 percent for both durable and nondurable materials.
Industry Groups
As with the overall index, the increase of 1.0 percent for manufacturing output in April was its largest since February 2014. The indexes for durables and for nondurables each advanced 1.0 percent, while the output of other manufacturing (publishing and logging) moved up 0.7 percent. The increase in durables was spearheaded by a large advance for motor vehicles and parts, while the improvement for nondurables was led by gains for food, beverage, and tobacco products, for textile and product mills, for printing and support, and for chemicals.
After falling 0.4 percent in March, the output of mining rose 1.2 percent in April, largely because of pickups in coal mining and in drilling and support activities. The mining index in April was 7.3 percent higher than its year-earlier level but 11.2 percent below its peak in December 2014. The output of utilities moved up 0.7 percent, as warmer-than-normal temperatures boosted air-conditioning usage and electric power generation; the increase in electricity generation was offset somewhat by lower output for gas utilities, as demand for heating slackened.
Capacity utilization for manufacturing rose 0.7 percentage point in April to 75.9 percent, a rate that is 2.5 percentage points below its long-run average. Although durables, nondurables, and other manufacturing (publishing and logging) all recorded substantial increases in utilization, their operating rates remained below their respective long-run averages, with the shortfall being the greatest for other manufacturing. Utilization for mining moved up 0.8 percentage point to 83.3 percent but remained below its long-run average. The operating rate for utilities rose 0.5 percentage point to 76.3 percent.