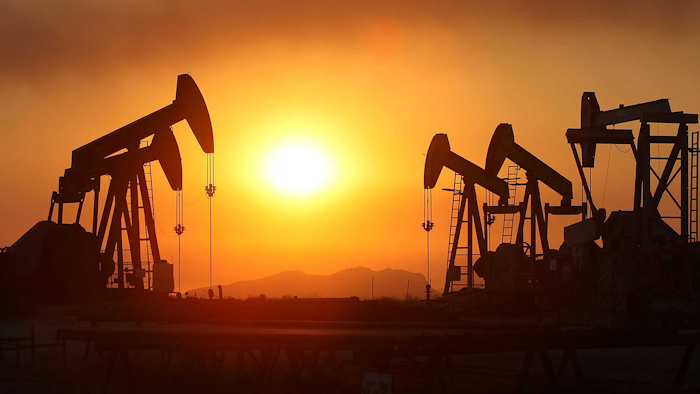 The U.S. added another dozen oil and gas rigs combined last week, pushing the current overall total to 37 percent higher than it was a year ago.
Friday's rig count provided by oilfield services provider Baker Hughes showed a combined count of 741, up an even 200 year-over-year. That mark is up 83.4 percent since the rig count bottomed out at 404 in May 2016.
The added eight oil rigs last week, marking a gain for the 14th week in the past 15. Friday's oil rig count of 591 is up 34.6 percent 152 year-over-year (+152 rigs) and is up 87 percent since bottoming out at 316 in May 2016. The current figure is still well short of the 1,600 mark it checked in at on Oct. 10, 2014, but has grown steadily for eight months. The number of active oil rigs in the U.S. is now the highest since Oct. 23, 2015.
U.S. oil rigs have increased by 114 since the OPEC output agreement was announced on Nov. 30. The cartel said Monday that it cut production by 890,000 barrels per day from December to an average of 32.14 barrels per day in January, which suggests that OPEC members are holding up their end of the bargain.
The U.S. added four gas rigs last week, resuming an increase after the previous week's flat count snapped a 12-week streak of consecutive gains. The active gas rig count of 159 is 47 ahead of a year earlier, or 46.1 percent.
Miscellaneous rigs were unchanged at one.
Texas led the overall rig gain by adding seven last week. New Mexico added four, Louisiana and West Virginia added two apiece and Pennsylvania added one. Ohio and Wyoming each lost two.
Canada added two total rigs last week, adding 10 oil and losing one gas. Its combined count of 352 is up 130 year-over-year, or 58.6 percent, with its 207 oil rigs up by 89 and its 145 gas rigs up by 41.
Friday's combined North American rig coung of 1,093 is up 330 year-over-year, or 43.3 percent.
Oil Price Update
U.S. Brent crude oil prices heald steady throughout last week, closing Feb. 3 at $56.81 and ending Friday at $56.70. Oil was at $55.63 as of 11 a.m. CT Monday.
Oil has closed at between $52.50 and $56.81 since Dec. 1, showing signs of steadiness over the last 10 weeks.