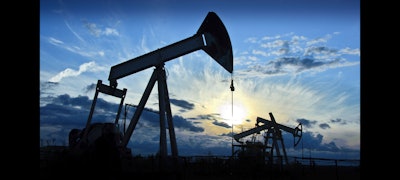 Houston oilfield services company Baker Hughes said Friday that the count for active U.S. rigs exploring and natural gas rose by 15 this week to 462, marking its fourth consecutive week of gains.
Canada (102 rigs) added seven, while the Gulf of Mexico (18) lost three, bringing the total North America gain to 22 this week and a total count of 564.
One year ago, the U.S. had 876 active rigs, while North America had 1,076.
The number of U.S. rigs drilling for oil increased by 14 this week to 371, while the number of those drilling for natural gas reduced by one to 88.
Texas gained 15 rigs, California added two and New Mexico added one. Alaska and Kansas each lost one, while Louisiana lost two. Arkansas, Colorado, North Dakota, Ohio, Oklahoma, Pennsylvania, Utah, West Virginia and Wyoming remained unchanged.
Oil Price update
The price of a barrel of WTI Crude oil was $43.29 as of 9:30 CT Monday, continiuing more than a month-long trend of decline since reaching as high as $52.59 on June 9.