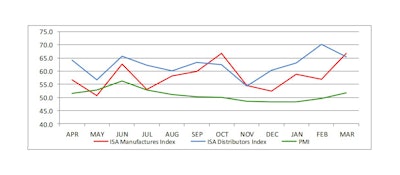 The Industrial Supply Association posted its March Economic Indicator Report on Thursday, highlighted by a drop in ISA's Distributor Index despite a welcomed increase in ISM's PMI Index that climbed back into expansion territory.
The PMI rose for a second-straight month, from 49.5 in February to 51.8 in March. For each index, a reading above 50 percent indicates expansion, while a reading below 50 percent indicates contraction. The PMI had read between 48.0 and 49.0 each month since October 2015's 50.1
On the contrary, the Distributor Index snapped a three-month streak of growth with a March reading of 65.3, down 5 points from February. Even so, March's reading was its third-highest in a 12-month span.
The Manufacturers Index posted a healthy jump of 7.8 points to 66.6, its highest reading since October's 66.8.