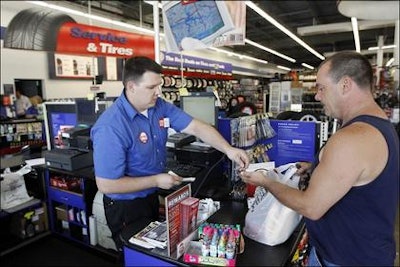 WASHINGTON (AP) — U.S. retail sales retreated in September as purchases of autos, gasoline, furniture and clothing slowed, a sign that recent job gains have yet to significantly boost consumer spending.
The Commerce Department said Wednesday that seasonally adjusted retail sales dropped 0.3 percent from the previous month. Sales have risen 4.3 percent in the past 12 months, slightly below their historical pace.
Auto sales fell 0.8 percent in September, after revving up 10.4 percent in August.
Dealers sold cars and trucks at an annual pace of 16.43 million vehicles last month, down from a rate of 17.5 million in August, according to automakers. While auto sales have helped drive economic growth for much of the year, the recent slip was enough to dent overall retail sales in September.
Falling gasoline prices also contributed to a decline in retail sales, as purchases at service stations were off 0.8 percent in September. Drivers are spending much less at the pump, as average U.S. prices have dropped to $3.19 a gallon, from $3.40 a month ago, according to the AAA.
Purchases of clothing dropped 1.2 percent last month.
On the other side of the ledger, spending at electronics stores rose 3.4 percent last month. Bank of America analysts believe that electronics sales probably improved in September thanks in part to the release of new iPhones by Apple. Apple says it sold more than 10 million iPhone 6 and 6 Plus models, a record for a new model, in the three days after the phones went on sale.
Excluding autos, sales still dipped 0.2 percent last month.
Increased consumer spending could help buffer the U.S. economy from the consequences of a broader global slowdown. Roughly 70 percent of all U.S. economic activity is driven by consumer spending.
The German government on Tuesday downgraded its economic growth projections, while much of Europe copes with high unemployment and diminished prospects. China's propulsive growth has started to fade, and consumers in Japan are still spending cautiously after a big sales tax increase. Last week, the International Monetary Fund trimmed its global growth forecasts for this year and next, citing weakness in Japan, Latin America and Europe.
In the U.S., future gains in retail spending will likely hinge on job growth.
Employers added 248,000 jobs last month, according to the Labor Department. Job growth has averaged 227,000 a month through the first nine months of 2014.
Each new job increases the number of paychecks in the economy. Still, wage gains have been sluggish since the recession ended in 2009, and that's led many people to be more cautious about spending money. Average hourly pay fell a penny to $24.53 in September. That's an increase of less than 2 percent over the past year, meaning pay is barely matching inflation.