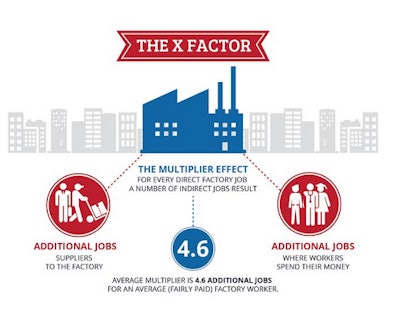 It's no surprise that recent years have brought a surge in demand for products made in the USA. The financial crisis of 2008, and subsequent recession, have caused Americans to rethink the importance and position of the US economy.
Now, a renewed interest in "Buying American" seems to be approaching its greatest peak in popularity since the 1940s (amidst the frenzy of WWII). But it was only recently that we realized to what extent the "Buy American" movement has resurged in the American consciousness.
In a recent survey conducted by American Certified, 1500 people across the nation were asked the question, "Other than price/ quality, what factor is most important to you when purchasing a product?" Of the 1500 people surveyed, an overwhelming majority of respondents (51.9 percent) chose "Made in the USA".
The second most important factor was "Locally-made," with 17 percent of participants choosing this option. The other choices included in this survey (listed in decreasing order of importance to participants) were Eco-Friendly, Union-made, Other, Veteran-owned, and Woman or Minority-owned businesses.
What's amazing is that this preference towards American-made goods is even more influential in the purchasing decisions of Americans over age 65. For this demographic, 66.2 percent of survey takers answered that "Made in the USA" was the most important buying factor to them outside of price and quality.
The survey results give us important insight into the new psyche of shoppers. It seems that more Americans are basing purchasing decisions on ethical and patriotic criteria, opting for more expensive Made in USA products over cheap and poorly-made overseas items. We can also speculate that today's conscious consumers understand that keeping production on American soil ensures safe conditions and fair labor practices for workers. And as labor costs rise overseas in places like China, US.-based manufacturers are seeing new opportunities to produce domestically.
In March 2012, a feature story in Consumer Reports stated that 74 percent of Americans had tried to buy an American-made product during the prior year. The problem, according to the article, was that 41 percent of these people couldn't identify which items were actually produced domestically. This conundrum is what inspired Marvin Weinberger to create American Certified — to empower Americans to buy high-quality US-made products that directly support US workers, American manufacturing, and the overall economy.
To date, American Certified is the largest online store in the world for USA-made products. The site features over 1.5 million items and accumulates more every day. AC uses a simple yet powerful search system to identify and organize millions of US-made items from thousands of manufacturers. As a result, American Certified is poised to become the de facto portal for US-made goods online, giving users a way to easily shop for top-notch American-made products. This capability, in turn, promotes product safety, quality, working conditions and the creation of new jobs.
It's important to note that when people Buy American, they're not only supporting well-paying jobs in the manufacturing sector. They're also helping create an estimated 4.6 additional jobs among suppliers and service providers. And every dollar spent on American-manufactured goods generates an additional $1.35 through the economic multiplier effect and co-investment in the community. That is a lot of opportunity for growth!
Weinberger started American Certified because he's extremely passionate about this country and its future. He wanted to help producers connect with customers who share their unique interests and values. Weinberger has been manufacturing products domestically for 15 years, going against many of his friends' advice to "follow the smart money by moving [his] production overseas." He recognized the willingness of many consumers to pay a premium to support American workers and has never regretted that decision.
The company is also building a comprehensive national directory of American 'Makers'. The directory includes manufacturers of all sizes and allows certified makers to add subcategories by which users can search. The subcategories include specifications like veteran-owned, woman-owned, organic, etc. And an "eco-friendly" button is to be implemented on the site within the coming weeks. Certification is available at no charge to all who qualify.
American Certified (www.AmericanCertified.com) commissioned the described survey as part of the company's ongoing mission to empower Americans to buy USA made clothing, Sporting goods, appliances, and more. With millions of American-made products across thousands of categories, American Certified makes it easy for consumers to know where their products come from and where their money goes.
Jolie Darrow is the Director of Content Strategy at AmericanCertified.com.