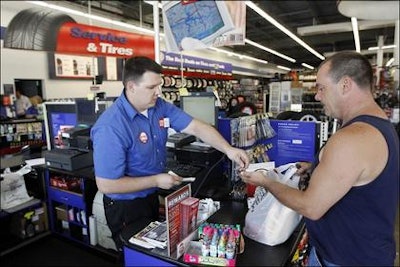 WASHINGTON (AP) — U.S. retail sales rose at a modest pace in October, evidence that recent job gains and lower gas prices are lifting consumer spending.
The Commerce Department said Friday that retail sales rose 0.3 percent last month after falling by the same amount in September. Excluding gas stations, where falling prices lowered spending, sales rose 0.5 percent.
Employers have stepped up hiring, giving more Americans paychecks to spend and boosting consumer confidence. That could spur more growth because consumer spending makes up about 70 percent of economic activity.
Auto sales rose a solid 0.5 percent, after falling sharply in September. Americans also spent more at restaurants and at sporting goods and health care stores.
Sales at electronics stores plunged after a big gain the previous month, when the newest iPhone went on sale.
The economy and job market have improved steadily this year.
Employers have added an average of 229,000 jobs a month this year. That's put hiring in 2014 on track to be the strongest in 15 years. The unemployment rate has fallen to 5.8 percent, a six-year low, from 7.2 percent 12 months earlier.
Gas prices have dropped for 49 straight days to an average of $2.92 a gallon nationwide, according to AAA. That is the lowest in nearly four years. Every one-cent decline in gas prices frees up about $1 billion for consumers to spend on other items.
Stock markets have returned to record levels after fears over a global growth slowdown caused turmoil in October. That boosts the value of wealthier Americans' stock portfolios and can encourage more spending.
Those trends have made Americans more confident about the economy. Measures of consumer confidence reached seven-year highs last month.
At the same time, there are factors that have kept consumers cautious.
Despite the pickup in job growth, paychecks have barely stayed ahead of inflation since the recession ended more than five years ago. Average hourly wages, adjusted for inflation, rose just 0.3 percent in September from a year earlier.
And many Americans who once worked full-time now have part-time jobs. There are still nearly 2 million fewer people working full time than in December 2007, when the Great Recession began.