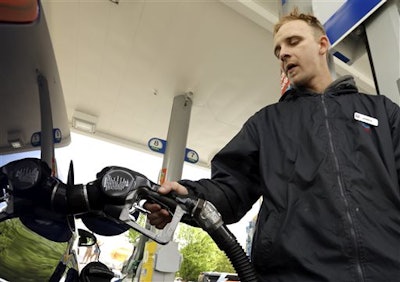 WASHINGTON (AP) — Consumer prices increased in May by the largest amount in more than two years, reflecting the biggest one-month jump in gas prices in nearly six years. But outside of energy, price pressures remained modest.
The consumer price index rose 0.4 percent in May, the biggest advance since February 2013, the Labor Department reported Thursday. The increase was driven by a 10.4 percent rise in the cost of gasoline, which has started climbing after nearly a year of falling energy prices.
Core inflation, which excludes volatile food and energy, was up a modest 0.1 percent in May as the price of clothing and household furnishings declined. Over the past 12 months, overall inflation has shown no increase, while core inflation is up just 1.7 percent, both showing modest inflation pressures.
Even with the 10.4 percent increase in gas prices, the biggest one-month jump since June 2009, gas pricesare still 25 percent below where they were a year ago.
However, prices at the pump have been rising recently. The nationwide average is up to $2.80, 10 cents higher than a month ago but still below the price a year ago of $3.66, according to AAA.
Food prices were unchanged in May, matching April's flat reading.
Prices for a variety of products did show gains in May including increases for new vehicles, alcoholic beverages and personal care such as haircuts.
The Federal Reserve on Wednesday left a key interest rate at a record low near zero, where it has been for the past six years. Fed Chair Janet Yellen said the central bank still needed more evidence that very low inflation would be moving back to the Fed's target of 2 percent over the next two to three years.
For the past three years, inflation by a price gauge favored by the Fed, has been running well below 2 percent. The Fed strives to achieve annual price increases of 2 percent, believing that is the optimal spot for inflation.
Many economists believe the central bank will start moving interest rates higher later this year, after it feels more confident that inflation is rising and the job market, which was battered by the Great Recession, has regained its footing.