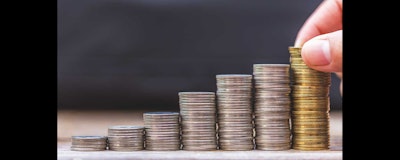 WASHINGTON (AP) — U.S. workers' wages and benefits grew 2.6 percent last year, the fastest 12-month pace since the spring of 2015.
The 12-month gain in wages and benefits came despite a slight slowdown at the end of last year with wages and benefits rising 0.6 percent in the fourth quarter, a tiny dip from a 0.7 percent gain in the third quarter, the Labor Department reported Wednesday. Still, the 12-month gain was an improvement from a 2.2 percent gain for the 12 months ending in December 2016.
In his State of the Union address Tuesday night, President Donald Trump touted the rise in wages as an accomplishment of his economic program. But private economists contend that wages should be rising at a faster pace given that unemployment is now at a 17-year low of 4.1 percent.
The gain in the employment cost index showed that wages and salaries were up 2.5 percent for the 12 months ending in December while benefits such as employer contributions to health insurance and pension plans rose 2.5 percent. Wages and salaries make up about 70 percent of compensation costs while benefits make up the other 30 percent.
Most economists believe that wages should be increasing at a faster pace given the drop in the jobless rate to 4.1 percent. The last time unemployment was this low, in the late 1990s, average hourly pay, another measure of wages, was rising at a 4 percent pace. Hourly wages rose 2.5 percent in 2017, down from a 2016 gain of 2.9 percent, according to a separate Labor Department report.
The employment cost index, which tracks wages and compensation benefits, last rose faster than 2.6 percent over a 12-month period in September 2008 when the gain was 2.9 percent.