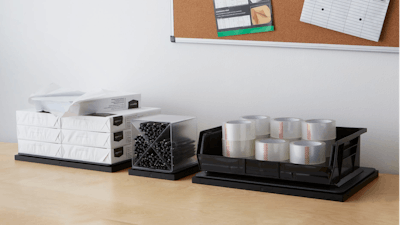 Amazon Business
A year ago, we reported on how Amazon Business had begun testing a new smart shelf concept — a connected smart scale aimed for keeping office supplies in stock, working with the same principle as Amazon's now discontinued Dash Buttons.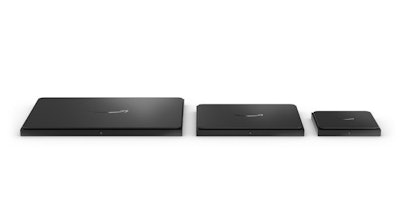 The wait is now over. As of late October, testing is now complete, and the B2B e-commerce giant's new Dash Smart Shelf is now available to purchase for Amazon Business customers and consumers.
The company describes the Dash Smart Shelf a weight-sensing, WiFi-enabled auto-replenishment scale designed to help manage the restocking of office supplies, breakroom products and other essentials for business or home. The shelf — which is 1" tall and comes in 7"x7" (small), 12"x10" (medium) and 18"x13" (large) sizes — is to be placed on a flat surface, which can include wire and warehouse racks. Once connected to Wi-Fi, it can track inventory for common-used products that can be ordered in single or multiple quantities through the user's Amazon Business or personal account. The company says the sheld also works with storage bins and containers, and that the included four AAA batteries can last for two or more years.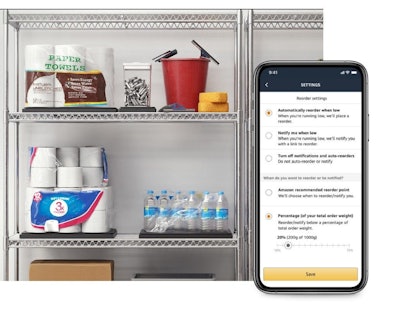 The Smart Shelf is geared for an audience of small- to medium-sized businesses for managing inventory of things like printer paper or coffee.
"We developed Dash Smart Shelf, a new Amazon device, after hearing from our SMB customers that one problem they faced with inventory replenishment was that vendor-managed inventory could be inflexible, with restrictions based on minimum orders or service area," Amazon Business said in an Oct. 29 blog post. "Also, automated replenishment and inventory management options available today are often tailored for industrial applications, and can be expensive and difficult to implement, placing them out of reach of many SMBs."
Overall, Amazon Business calls the Dash Smart Shelf "our solution so that SMBs don't have to choose between spending time with their customers or taking trips to the store to restock inventory."