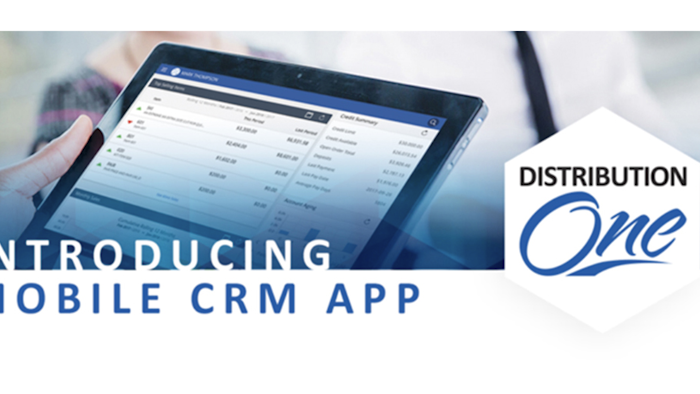 MOUNT LAUREL, NJ — Conducting on-site customer sales meetings just got easier. ERP software provider Distribution One presents another valuable tool in its suite of innovative mobile applications: Mobile CRM. A crucial tool for the distribution sales team, Mobile CRM delivers on-demand customer sales data on any Apple and Android mobile device.
Working seamlessly with ERP-ONE and ERP-ONE+ software, Mobile CRM enables sales team members to access up to three years of key sales data which can be stored locally in instances of no internet connectivity. With Mobile CRM, every sales meeting can be conducted using accurate, up-to-date data.
From the home screen, Mobile CRM provides each sales person a full Activity Feed featuring calls, on-site meeting schedules, and other actionable tasks. The App includes convenient search functionality and access to both customer contacts and prospects. Additionally, the App features an interactive map of customer locations allowing the sales person to accurately plan his/her travel itinerary. The integrated calendar is the same, easy-to-read interface utilized within ERP-ONE+.
Mobile CRM presents quick form data on topics like item trends and accounts aging. One-touch access displays all items a customer has bought as well as graphical monthly sales charts identical to those utilized within ERP-ONE+. These graphs can be customized to rolling 12 months, cumulative, and calendar year views.
With such innovative features and mobile data access, Mobile CRM is designed to be the definitive mobile CRM tool for any distribution sales professional. For additional information on specific App functionality or to request an ERP-ONE+ software demonstration, contact Distribution One at info@distone.com.