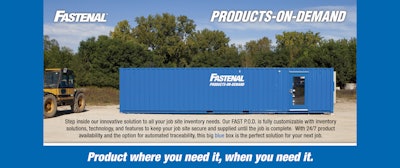 Winona, MN-based Fastenal — No. 10 on Industrial Distribution's 2016 Big 50 List — has been at the forefront of industrial vending ever since it pioneered the offering in 2008. It's stayed a step ahead other industrial distributors and service providers that offer the technology by remaining innovative, and the company's latest innovation looks to take vending to the next level.
In an effort to place industrial products ever closer to customers, Fastenal has launched FAST P.O.D., or Products-on-Demand, essentially a mini-Fastenal store that complements the company's 2,500+ branch locations nationwide.
"The original idea was to service markets that were too small for Fastenal to put a brick-and-mortar store, but still offer some of our products," says FAST Solutions executive president Gary Polipnick.
At first glance, the FAST P.O.D. looks like a typical blue shipping container. But inside is essentially an unmanned hardware store, filled with the company's rapid-selling FAST Solution vending machines that dispense a range of industrial products from hand and power tools, safety gloves and batteries to cutting tools. Providing a secure, controlled environment, the P.O.D.s can be placed at a job site, manufacturing facility or rural location where the company doesn't have a physical presence.
The P.O.D.s have an obvious appeal for contractors and industrial facilities, but the company also is testing out offering them to the general public. It's P.O.D. near the Holiday Inn in Winona was the company's first of the sort, while it has eight of them set up at contractor sites.
"Our hope is that the average Joe that needs industrial or safety supplies might see this as a way to get what they need if there's not a local store," Polipnick says.
The P.O.D.s are assembled in Winona, shipped to the customer's location and serviced the same way other customers are. The nearest local Fastenal store drives the service side of things, with a Fastenal rep monitoring the product to see what needs restocked and how often.
"I absolutely see these things on manufacturing sites as well," says vice president of FAST Solutions Kevin Fitzgerald. "If their space is limited, we could place them outside the facility. The possibilities are really endless."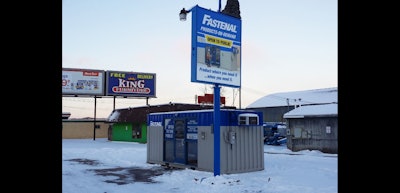 Fastenal's vending machines are basically everywhere. The company surpassed 60,400 installed by mid-October. But they aren't always great for a contractor site such as construction, where they would be subject to damage and the outdoor elements. A major feature of the P.O.D.s — available 20-foot and 40-foot versions — is secure access in a controlled environment, providing peace of mind for the user. A P.O.D. can be set to remain open during working hours, and can still be accessed outside of that timeframe by using its outside intercom, which alerts Fastenal's help desk to let that person in. Fitzgerald relates it to how banks require the user to swipe their debit or credit card at the front door before being allowed to use the after-hours ATM inside.
The P.O.D.s come with security cameras, locks and an HVAC unit.
Users can customize the machines or lockers inside a P.O.D. and the products inside them, and like with FAST machines, contracted customers don't have to pay each time they need a product from it.
"Contractors like having product on-demand and not having to pay for it each time they use it," Polipnick says. "Contractors have a pretty good handle on what they need and use. They've already vetted the product they want."
Fastenal began the offering by building two P.O.D.s and searched for a rural community to place it in. Polipnick and Fitzgerald said one of the company's target communities is New Lisbon, WI, about 80 miles northwest of Madison. There are multiple industrial manufacturers in New Lisbon, but the nearest Fastenal store is 21 miles away in Tomah, making it a prime location candidate.
"We built the first two with that thought in mind," Polipnick says. "Then we had a visit from the lead guy at Kiewit Construction of Nebraska. He saw these and said, 'I want these on my job site.' There's nothing new with distributors taking care of job sites. When you throw the vending piece into it — where it's accountable with who's taking what — that was appealing to them."
The offering is just the latest method Fastenal is increasing its visibility and presence with customers. At the end of the company's fiscal Q3 in October, it's installed FAST machines count was up nearly 13 percent from a year earlier, while the company also has employees staffed within customer facilities providing sales and services. While Fastenal's fastener sales have declined over the past three years, its industrial vending business has powered overall growth in 2016. November was the 10th month of 2016 that the company had a year-over-year daily sales gain.
Other large industrial distributors like Grainger and MSC Industrial also offer their own vending machines, but evidenced by this latest offering, Fastenal appears to still be at the forefront in getting product closer to the customer.
"Grainger is an excellent competitor with what they do," Polipnick says. "Their model is a little different. They're shipping from distribution centers to get product to customers immediately. A lot of distributors can get products to customers the next day. We're trying to get that product a little closer."
For Polipnick, it's just the next development for a company he says fosters innovation.
"The nice thing about working at Fastenal is it doesn't matter who comes up with an idea. It doesn't have to go through a hundred committees before we can try it," Polipnick says. "We're able to work fast."
Polipnick says that notion goes back to when he started at Fastenal back in the early 1980s under the direction of company founder Bob Kierlin.
"I think it's ironic that we've come full circle when the company started with the vending idea back then, and here we are the leader in vending technology," Polipnick says.
Fitzgerald adds that while vending has been driving growth as of late, Fastenal's brick-and-mortar network continues to be its backbone.
"It's fun to do things like this in the environment we're in," Fitzgerald says. "A unique thing about Fastenal is our local stores, which give us the last mile of delivery to our customers. They give us the ability to be real flexible with how we can get product into our customers' hands in a timely manner.
"Vending, P.O.D.s, whatever the next technology is, that local service allows us to stay ahead of the competition."
Check out Fastenal's P.O.D. line card below: