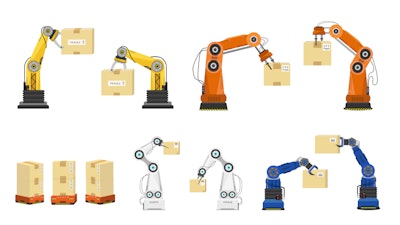 iStock
With the COVID-19 pandemic still raging throughout the world and in the United States, government-mandated social distancing has drastically shifted consumer behavior and fostered an e-commerce boom. Online sales are soaring across the board with $434.5 billion in spending recorded in the U.S. – up 55 percent year-over-year for the first seven months of 2020, according to Adobe. Without the brick-and-mortar store experience, retailers are angling to compete based on speed and supply chain efficiency. New warehouses laden with the latest industrial robotic technologies will play an important role moving forward. To better understand how today's warehouses are becoming high-tech havens, it is important to take a deep look at underlying marketing trends, examine how industrial robotics have evolved and understand the most promising technologies.
Pandemic-Ready Warehouse Robotics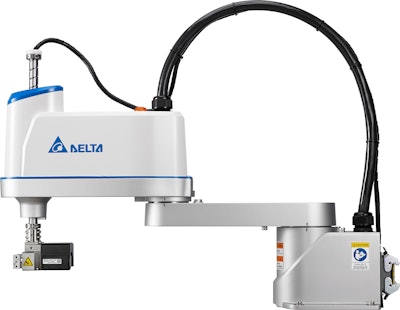 To meet rising demand, online retailers are rapidly deploying warehouse space with robotic solutions. Real estate firm Jones Lang LaSalle (JLL) estimates that industrial property demand could reach an additional 1 billion square feet by 2025, boosting resiliency and efficiency for retailers.
Online juggernaut Amazon.com is leading the way. This year, the Seattle-based company announced a new program with mall operators to turn Sears and JC Penney stores into fulfillment centers. Why work with traditional retailers? Amazon's famed Prime service made fulfillment speed a paramount competitive advantage for the company in e-commerce, and it requires more warehouses to achieve faster deliveries while maintaining margins. These margins can be met partially because of robotics.
History of Industrial Robotics
The first widely considered industrial robot was UNIMATE, a robotic arm produced by Unimation in 1959. General Motors began using UNIMATE at their New Jersey plant the same year. By 1961, the Unimate 1900 series became the first mass-produced robotic arm for factory automation. A few years later in 1969, Victor Scheinman invented the Stanford arm at Stanford University. This was an all-electric 6-axis articulated robotic arm that opened doors for use in assembly and welding tasks, marking the next significant milestone in the industry. These robotic solutions were created to take on tasks deemed too dangerous to be conducted by humans. As robotic technology continues to evolve, its advantages are growing.
In today's warehouses, robotics can work safely alongside employees and take on menial, repetitive and labor-intensive tasks so staff can undertake more rewarding and mindful work. By freeing up employees to focus on value-added tasks, factory productivity undoubtedly increases. A benefit is a reduction in errors. After integrating robotics onto the assembly line, many businesses typically experience lower error rates and higher customer satisfaction.
Warehouse Robotics to Watch
Warehouse space might be coming to your neighborhood, but what will this technology look like? The warehouses of online retailers will have advanced technologies woven throughout. Here's a sampling of the industrial robotic solutions that are growing in popularity:
Bionics & Wearables
These technologies are geared toward enhancing the human workforce. Warehouse workers often rely on computer tablets, scanners and other devices that can be integrated into wearable devices and heads-up displays. Combined with augmented reality, these displays help direct workers to take the most efficient path from point A to point B, show checklists for easy reference and more. Another way workers are being augmented is through exoskeletons – external braces that protect workers and allow them to lift weights which would otherwise be deemed dangerous. These can range in sophistication from passive, which do not have motors or actuators, to powered, which do.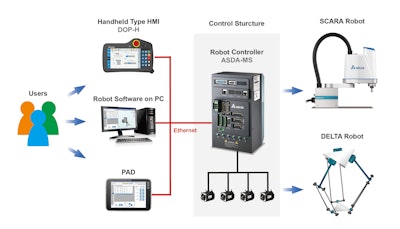 SCARA & 3D Vision
Robotic arms are a critical component of modern warehouses. SCARAs (Selective Compliance Articulated Robot Arms) have a higher level of control over traditional cartesian or 6-axis articulated robotic arms. As it relates to material handling, SCARA robots with 3-4 axis (or even an additional axis for tilt, which is called a 4+1) can be deployed for efficient bin-picking operations. Even with less axes, advanced SCARAs match the same range of motion as a 6-axis articulated arm. The setup, operations and calibration is also much faster – an important consideration for scaling up.
Advancements in 3D vision technologies also are boosting the capabilities of these robotic arms. For instance, it can sit above a pile of objects, understand the angles that objects are sitting at and determine the best path for the SCARA when picking and placing it into a bin without collision. 3D vision combined with SCARAs allow them know where they are in the space, adding a new dimension of intelligence. This combination turns menial work into quick work.
Automated Mobile Robots
Automated Mobile Robots (AMRs) have an array of sensors which enable them to understand and interpret their environment and travel throughout a warehouse. This allows them to perform their task in the most efficient manner possible. In a warehouse and distribution center environment, the technologies are integrated with the warehouse's control systems, which allow AMRs increased flexibility to create their own routes between locations within a warehouse or facility. When paired with wireless charging technology, these robots will also guide themselves to their charging docks until they are ready to be deployed again – eliminating the need to manually plug these robots into a charger and reduce charger wear-and-tear.
The Final Word
The current pandemic has forced many industries to adapt to this new normal. Businesses are no longer looking for ways to just recover. Rather, they need to anticipate new needs and improve processes. Warehousing is one such industry, and its future is highly intertwined with advanced industrial robotics.
Bill Faber is Director of Product Marketing and Business Development for Industrial Automation at Delta Electronics (Americas).