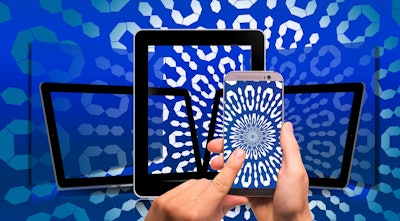 As we make our way through another year, it seems distributors cannot escape the inevitable conversation surrounding digital transformation. With innovation and technology continuing to shape business markets globally and penetrate all aspects of the supply chain, it has become near impossible to grow a distribution business without improving digitally. As such, 47 percent of CEOs are experiencing added pressures to take action to propel companies into the next stage of their digital futures.
Research has found that 89 percent of businesses are planning to, or have adopted, digital solutions into their corporate strategy. But how many have taken action to integrate these digital strategies into everyday operations?
To drive success, distributors are looking to CEOs to not only support the execution of digital transformation but more importantly to alleviate strain, remove hurdles and prioritize investments. CEOs are the ideal digital transformation advocates as they have the combined insights into the business. Specifically, they have visibility into internal challenges, strategic planning and revenues. Digital transformation will now be at the top of their corporate agenda and will shift roles across business decision makers.
Prioritizing Business Investments
In the past, digital transformation has been traditionally researched, recommended, and implemented by CMOs who are responsible for 34 percent of businesses' transformations, due to their in-depth knowledge of customer habits and needs, and only 19 percent of CIOs/CTOs took responsibility for these transformations. Due to the unprecedented growth of all things digital, we are now seeing CEOs taking the lead towards not only incorporating digital strategy across the supply chain but allotting sizable budgets for digital transformations.
Businesses are seeing CEOs prioritizing internal challenges first and foremost to make the most significant business impact from the inside out. Business leaders are considering solutions such as SaaS that can support business growth and streamline day-to-day employee tasks. Let's take sales order automation as an example. The implementation of sales order automation software is capable of automating incoming purchase orders, freeing up employee time to focus on more value-added business tasks such as upselling or building customer relationships. Improving internal processes can easily be forgotten or overlooked in the wake of new innovations. However CEOs are addressing these needs due to their in-depth understanding of internal hurdles and employee challenges.
Company Vision
Digital transformation does not equal an uprooting of enterprises from head to toe. Rather, businesses must understand the importance of foundational corporate values and their impact on overall business operations and company culture. CEOs will now look to maintain the corporate culture and minimize friction, while addressing a shifting company vision towards a more digital and advanced future. Whether it is through digitizing ordering processes, optimizing customer service or even implementing a new technological platform, it is no longer solely about business changes; it is about adaptation and digitalization within the supply chain.
One survey shows 70 percent of businesses believe their CEO has an average or above average understanding of technology, meaning employees will be looking to the CEO and senior management for digital guidance and strategy. However, having a savvy and technologically knowledgeable CEO is not enough. CEOs will be taking the reins in understanding and acknowledging the impacts of digital transformation on various aspects of the business, from production processes to back-end administration. They will be leading the way to a more forward-thinking business model and challenging the culture, status, and principles of the business.
Internal Preparation
Driving a company culture rooted in technology will continue to be vital for business success. Top management will need to adapt and prepare the team to not only accept, but learn to maximize on digital solutions. Ensuring the team is not only prepared, but is open and accepting of adopting transformation will be the foundation for a prosperous company future.
It is evident that technology impacts every distributor and department differently. CEOs must ensure that the team has an in-depth understanding of how and when technology will change their roles within the business and will create open communication and foundational knowledge on these solutions. Let's revisit the example of SaaS solutions and sales order automation; automating back-end solutions for the sales team can shift their roles from an administrative focus, to have more of an emphasis on customer relationships. Therefore, ensuring active communication, knowledge, and understanding not only of the roles itself, but also the overall business, impact these changes will have on every department is critical.
The role of the distributor CEO will change drastically in the coming months as they continue to manage the implementation of digital transformation across the supply chain. From small transformations such as SaaS solutions, to larger system overhauls, CEOs are driving the industry to think and strategize differently. Allocating investments, promoting a forward-thinking company culture, and internally preparing to adapt to changing markets, CEOs will push businesses into a brighter, more technologically advanced future.
Earl van As is Vice President of Marketing & Product Management of ecmarket, a cloud solutions developer of the patent-pending Conexiom sales order and invoice automation solution. Conexiom allows manufacturers and distributors to focus on serving customers and managing supplier relationships instead of entering data. He may be contacted at evanas@conexiom.com. For more information, visit conexiom.com.