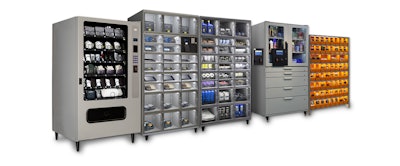 Industrial vending has been one of the fastest growing markets in the industrial supply sector over the past five years as the technology has advanced to do much more than just dispense small items. Enhanced Internet connectivity allows distributors to now supply industrial vending machines as not just a product line, but a service for their customers that goes well beyond inventory management.
Industrial Distribution recently spoke with Kent Savage, CEO of Apex Supply Chain Technologies, to get his thoughts on the state of the industrial vending market and how his company has changed the game.
Industrial Distribution: Industrial Vending has been around for decades, but seems to have really taken off over the last 5-6 years. What are your thoughts on its rapid expansion and its potential over these next few years?
Kent Savage: When the Internet started to become feasible, a generation of Internet-oriented systems came into play. All vending solutions had versions of that, but all were hybrids in that processing was done at the site, on-premises. Data was replicated to make it more accessible, which presented problems in terms of data synch and support costs. It took a lot of money and people to support. The breakthrough started in 2006 when we started Apex, which was another generation ahead in that it was a true cloud-based system. It was much easier to use, implement and easier to afford. It took a couple years for that to take off, but the acceleration started in 2008 when Fastenal made a big commitment to the technology and made it part of their offering. Then it went off like a skyrocket. They've installed more than 60,000 machines since 2008, while we've put out over 100,000 machines in that time. We've been able to invest heavily in the next generation of technology and now are a further generation ahead. That enables much easier integration with ERP and back-end systems, and easier to implement mobile, data systems, business intelligence and analytics.
Now there's a whole range of solutions. The first was cutting tools, followed by PPE and safety products as fast-growing areas of industrial dispensing. Many types of materials beyond MRO are commonly dispensed today, helped by sensor technology. Worldwide, there is potential for many millions of vending devices. Some don't look like the big boxes of industrial vending machines today.
ID: Manufacturing sector customers are hesitant about investing in any new technology unless they know it will provide solid return-on-investment. What would you say to those manufacturer/distributor executives that may be skeptical about how much ROI they can get from industrial vending?
Savage: A couple things that play into that. If you go back 20 years, even though industrial vending had been around a while, it was still 'new'. Today, it's a proven best practice. To a distributor, look at your customers. They are demanding it. The question of 'is there value?' isn't really there anymore. In some industries, suppliers are used to making capital investments. In industrial gas, at a big enough plant, they may put a gas generator at their facility — a huge investment. Think of this as a product to buy and then sell. Successful distributors that have embraced this tech look at it as part of their infrastructure. It's no different than other tools they deliver to customers. Investing in technology, storage and retrieval, warehouse management, truck fleets, etc. — this technology should be looked at the same. It's a way to deliver a better service at a better cost than a labor-intensive service of inventory management.
Living in age of the Internet of Things, the end user or distributor shouldn't buy this technology, but rather think of it as a service. We find the biggest movement is to offer a complete subscription — they get the data service, analytics, installation, maintenance and services necessary to deploy — off a monthly subscription cost. They don't need software or because it's all in the cloud.
It goes beyond ROI. If you take the current cost-to-serve, you've replaced inventory and people doing non-value activities with an efficient technology. The net cost of that is far less than what it is under the current state. The economic gain is instant. From the customer side, the customer is going to use less because they have better control and waste less. Distributors can use this as a differentiation service. It allows them to bundle their services together. It's greater share of the spend. They get customers that aren't buying based on lowest bid, but based on the total service.
ID: What can you say about automated vending's role in human collaboration, as opposed to human replacement?
Savage: Skilled trades people perspective spend a lot of time in traditional system just getting the supplies they need, or being negatively affected if things break down and parts aren't on-hand. By having better control of that, it helps those people be more productive. At the end of the day, everyone in the company has an interest in workers being more efficient. Non-value added jobs are a drag on productivity, and they are jobs that people don't want to do anymore. Automated industrial vending positions the workforce to do better, more rewarding work.
ID: Lean warehousing and plant floor efficiency have become especially top-of-mind in the manufacturing sector. How can industrial vending machines help in this area in terms of maximizing warehouse/floor space?
Savage: Industrial vending isn't limited to the helical machines everyone thinks of. We now have smart bins and other devices monitored by sensors that flow information back to the Cloud. You now can have a lot less inventory. Two enemies of inventory management are bad information and latency. Most toolcrib systems and ERP systems are based on some interpretation of demand. That's because that's what somebody decided to say, 'this is what I need.' Smart lockers, cabinets, shelves, drawers and vending machines are based on what's used. Now, I have real-time vision on what's being used. If consumption changes quickly, everyone in the supply chain knows that right away. The result is not having to have a lot of inventory. The whole thing becomes much more lean in freeing up working capital and floor space. This goes beyond that with intelligence. It allows the lean black belts and facility managers to see what's really being used. Maybe you don't need 20 tons of safety glasses when you only need six.
Another way it's being used is to control warehouse assets. The use has expanded from vending and storing durable tools to now vending electronic equipment and handheld devices. A million square foot distribution center (DC) has hundreds, potentially thousands of these devices. Workers can check those in and out of lockers. The lockers manage who gets what, when it should be returned and can have a loan period put on it. The system can monitor that. It can manage charge of batteries. If a worker is halfway across a big DC and battery runs out, that's a half hour going back and forth for a new battery. Batteries can be charged right in the locker.
ID: It seems everyone is getting involved with cloud-based technology nowadays, and industrial vending is making that leap as well. What benefits have you seen by making new vending solutions cloud-based?
Savage: First, you have to ask if a vending system is true cloud-based, or is it site-based technology that's replicated to the Cloud? On-site means I have to rely on their network, and that includes security issues and synchronization issues. The benefit of having a true cloud system is that it just connects and it goes. All you need is a connection to the Cloud, which can be Ethernet or wireless. That makes the ease of support such a smaller barrier to entry. The IT security team know you're not plugging in a computer there. They don't have to worry about it. It won't be a back door into their network. It also allows us to make smaller and smaller devices. It's not just a machine with helix. It's smart bins. Normal bins are so hard to keep full on a regular basis unless you put a lot of inventory in there. With smart bins, you don't need a special vehicle to transport or specific people to install and maintain it.
ID: With so many vending solution provider options out there today, why should a potential customer choose you?
Savage: I think by comparison, they'll find we're easier to use, easier to implement and easier to afford than any other comparable system. Beyond that, we've been at this from the beginning. We've been able to learn from our global experience. We see how customers use the technology. Because we've developed scale, we can invest in research and development to constantly improve. Our R&D budget is larger than our competitors. We're positioned better for the future. When a distributor adopts this technology, they're making a promise to their customer that it's going to work. The dependability and history of that is important. Everyone assumes 'a box is a box is a box', and then they get something that requires a heck of a lot more support on the back-end than they anticipated. We have the resources here and globally to make it easy.