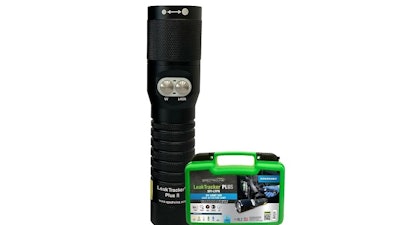 Spectronics Corporation (Long Island, NY) has announced the launch of the new Industrial LeakTracker Plus Rechargeable UV flashlight. This inspection lamp is the latest addition to the LeakTracker Flashlight Series, adding a rechargeable option. The new LEAKTRACKER PLUS Rechargeable is a 365 nm UV LED high-intensity leak detection flashlight. Features include:
An adjustable focus making it a dynamic tool for close and long-distance range leaks and a laser pointer for further visual aid in spotting hydraulic leaks.

A runtime of nine hours and the li-ion battery charges inside the flashlight with ease and convenience when on a work site, making the new LEAKTRACKER PLUS Rechargeable is a great leak solutions tool for your operation.
The LEAKTRACKER PLUS Rechargeable works with all Spectroline ULTRA fluorescent dyes to provide technicians with the optimal fluorescent dye response and contrast when scanning for hard-to-find leaks.
www.spectroline.com, 516-333-4840