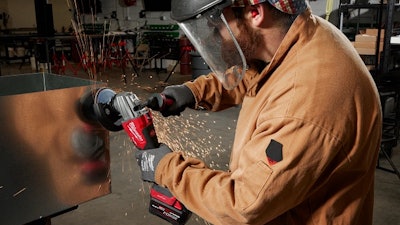 Milwaukee Tool (Milwaukee, WI ) provides the next advancement in angle grinder technology with the introduction of the M18 FUEL 4-½" / 5" Dual-Trigger Braking Grinder. With dual-trigger activation, a permanent side handle and AUTOSTOP kickback control, this new cordless angle grinder gives users greater control on the jobsite. Specifically:
With a trigger on the braking grinder's main barrel and a secondary trigger on the side handle, the dual-trigger activation requires two hands to stay on the tool for operation.

The new-to-world side handle design is permanent to the tool, ensuring compliance on the jobsite. For added user control and accessibility in hard-to-reach areas, the side handle can be positioned in 15 different orientations: tilting from 0 to 90 degrees and pivoting to the left, top, and right.

An anti-vibration design reduces vibration in the side handle, increasing user comfort during extended use.

For the first time, Milwaukee's AUTOSTOP kickback control is included in an angle grinder. An electronic clutch detects extreme movement and shuts off the tool, helping prevent injuries from severe kickback.

Unique to Milwaukee's metalworking solutions, RAPIDSTOP braking stops most wheels in under one second, allowing users to set down their tools quickly after use. The accessory guard can be easily adjusted without the use of an additional tool, but not easily removed.

Featuring four variable speed settings between 3,500 RPM and 8,500 RPM, users have additional control in a variety of materials. As an additional benefit, the grinder is compatible with ONE KEY, which allows users to sync the tool wirelessly with their mobile device or desktop. With this technology, users can identify the tool's location and utilize integrated tool security.