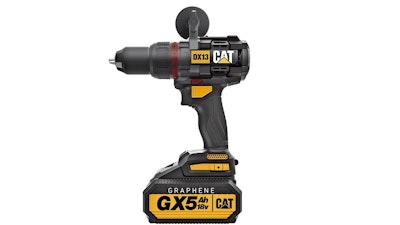 The New Cat (Charlotte, NC) 18V 1/2 in. DX13 Brushless Hammer Drill claims the distinction of being the first portable power tool to feature a Graphene battery. This state-of-the-art 18V, 5.0Ah Graphene battery delivers twice the power, charges three times faster and provides four times longer life cycles than conventional lithium-ion batteries. This translates into significantly higher productivity, reduced downtime and cost savings for pros who demand optimum power, advanced engineering and longer runtime from their tools. Imagine the ability to fully re-charge a 5Ah battery in 20 minutes and have twice the amount of power to tackle some of the toughest applications on the jobsite without being connected to a cord. Other features include the following:
The Graphene battery provides four times the amount of life cycles which translates to 1200 charges on a single battery with a 5-year warranty to stand behind it.

An efficient brushless motor that packs 25 percent more power, provides 50 percent longer runtime and adds 10 percent longer life, compared to traditional brushed motors.

The cordless hammer drill exerts 700 in.-lbs. of torque for heavy-duty applications. It's equipped with a ½" ratcheting, all-metal chuck for gripping power, bit retention and shock resistance. It also features a rugged two-speed, all-metal gear box.

The hammer drill's two-speed gearing and 22 clutch positions make it easy to find the best speed and torque for each job. In hammer mode, the drill's two impact ranges are 0-8800 and 0-35200 bpm (blows-per-minute). No-load drilling speed ranges are 0-550 and 0-2200 rpm.

Weighing 4.85 lbs.

,

the Cat DX13 Hammer Drill is well balanced. It has a variable speed trigger, as well as a comfortable, overmold, micro-texture pistol grip. An LED light illuminates the work area.