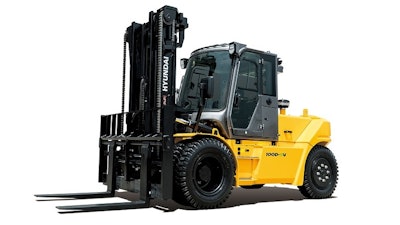 Hyundai Material Handling (Norcross, GA) recently introduced a series of new and innovative products that are stronger, safer, more cost-effective and eco-friendly. Unique and advanced design features enhance comfort and reliability while maintaining the highest level of power and durability.
Products include:
9V Series: The 9V series satisfies customers' demands by adapting Hyundai's powertrain to increase the durability of transmissions and drive axles and enhance driving comfort. It includes the 25/30D 35DN-9V Diesel Pneumatic Forklift Series which offers a powerful, eco-friendly Hyundai diesel engine that meets all EPA/CARB Tier-4 regulations; innovative cost-effectiveness and reliable durability with improved capacity for heavy-duty handling; enhanced safety measures; and outstanding operability ergonomics, including a new digital-type cluster with MCU function. Another key offering in the 9V series is the 22,000-pound-capacity 100D-9V. Redefining the meaning of high performance in heavy-duty forklifts, the 100D-9V combines the power and efficiency of a Cummins diesel engine that meets the world's most exacting emissions standards.

25/30/33LC-9 Series: Available in 5,000, 6,000, and 6,500-pound-capacity, the Hyundai LC-9 series provides enhanced ergonomics and new safety features that help drive productivity while safeguarding not just operators but operations as a whole.

B-X Electric Pneumatic Lithium Series: The new battery-powered B-X Series brings forklift owners the complete lithium truck package: truck, lithium battery and charger, with an option to apply a conventional lead acid battery. Available in 5,000-pound through 7,000-pound-capacity, the heart of the B-X Series is a design that dramatically reduces energy consumption to cut the cost of ownership.


Class III Products: This series of 10 electric pallet jacks, straddle stackers, and a manual pallet jack possess unique ergonomic designs, strong chassis, and quick-charging lithium batteries. With this new edition of Class III Products, Hyundai and its dealers now offer a complete line of material handling equipment to customers - from the factory floor or warehouse aisles right up to the loading dock.