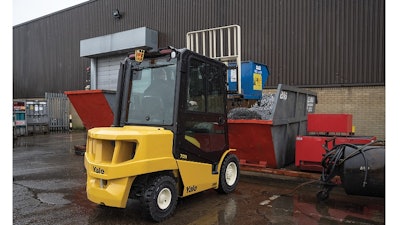 Yale Materials Handling Corporation (Greenville, NC) rolls out the first lift trucks in its new Series N lineup with the introduction of counterbalanced models available in the 4,000-to-7,000-pound capacity range. Built on a scalable platform, not only does the Yale Series N offer strong productivity, operator ergonomics and a low total cost of ownership, it allows material handling operations to option up based on their unique needs.
The configurability of the GP40-70N models does not come at the expense of comprehensive standard features:
Operator-centric design

– A large, strategically located step, generous grab handle and contoured hood make it easy for the operator to get on and off the truck. A spacious compartment with easily adjustable controls helps operators stay comfortable and productive all shift.

Enhanced visibility

– The low dash and wide mast help enhance visibility of the fork tips and load when picking, placing or traveling forward, helping support operator awareness, confidence and efficiency.

Safety and productivity

– Standard on all Series N trucks, the innovative Dynamic Stability System (DSS) provides automated alerts and assistance to operators by implementing truck performance limitations in real-time to help minimize forward and sideways tip-overs

*

.

Low total cost of operation

– Start with custom configuring the right truck at the right price, then durable components and extended service intervals to help minimize downtime and reduce maintenance costs over the life of the equipment.
The GP40-70N can be ordered with optional operator assistance systems designed to further support operator and pedestrian awareness, and help prevent facility and product damage in specific applications. These technologies include a rear-facing camera and rear-view display, spotlights and pedestrian awareness lights, and pre-set lift height selector.