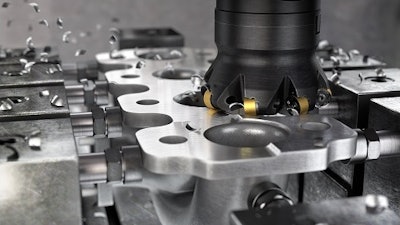 Cutting tool specialist Sandvik Coromant (Mebane, NC) has launched a new milling concept — CoroMill MR80 — primarily designed for challenging roughing operations in a wide range of face and profile milling applications in steel and stainless steel.
CoroMill MR80 is a double-sided round insert concept with a higher number of inserts compared to regular round insert cutters. It is ideally suited to low depth of cut — up to 3 mm — in face milling and profile milling applications in both steel and stainless steel.
Originally designed for machining cast stainless components such as turbochargers and exhaust manifolds in the automotive sector, this product has been further developed to cater to steel milling applications, which require the security of a round cutting edge — such as the die and mold segment. As a result, CoroMill MR80 is an extremely capable and versatile milling concept that offers both higher productivity and economical machining in a wide range of operations, with no compromise on security.
An economical solution, CoroMill MR80 features double-sided inserts with 12 indexing possibilities when operated within a 3 mm depth of cut, meaning more parts for each set of inserts. A higher number of inserts on a cutter body also enables a higher table feed and increased productivity. On top of that, the overall security and reliability mean less damage to the cutter body and inserts which, ultimately, helps to cut costs.
Thanks to its lightweight cutting geometry, it is also possible to use CoroMill MR80 as a problem solver in difficult machining situations, even with long overhangs.
The CoroMill MR80 assortment offers cylindrical and arbor cutter bodies, with diameters from 32 to 100 mm, 3 to 12 cutting teeth and even pitch and shim protection. All cutter bodies feature internal coolant supply. The double-sided E-L50 inserts offer true and easy indexing (6 + 6), with a 3 mm recommended depth of cut.
www.sandvik.coromant.com