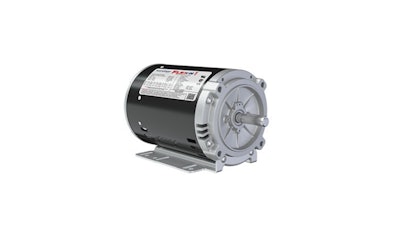 The North America Motors business unit of Regal Rexnord Corporation's (Grafton, WI) Commercial Systems business segment announces the launch of a new line of general-purpose motors.
The new line of motors was designed using feedback received in Voice of Customer interviews.
One Flex-in-1 motor may replace up to any one of 18 different traditional general-purpose motors. This is due to the added features and functionality designed into the product. These features include the ability for the motor to operate at 60 to 50 hertz, capability for inverter duty, and a removable repositionable base that enables the conduit box to be rotated into the desired NEMA® F-2 and F-3 mounting positions. The motor ships with the conduit box in the F-1 mounting position.
The Flex-in-1 motor is the only NEMA motor with a patent-pending repositionable base plus C-Face design with rolled-steel construction. The combination C-Face rolled steel and base design gives the motor added strength and durability.
The removable and repositionable base allows the end-user the flexibility to configure the motor into the F-2 and F-3 NEMA mounting positions. If an end-user chooses to detach the base, the position in which they select to re-attach the base to the motor will result in the conduit box being positioned as F-2 or F-3, enabling a single motor to fit many different applications regardless of the mounting requirements. Repositioning the base can be done in 5-10 minutes or less vs. the approximate 60 minutes in time that it would take to configure a standard general-purpose motor reducing downtime required for installations, repairs, and retrofits.
There are also provisions for add-ons, such as brakes, shaft grounding rings, drip covers (ODP), and lint guards (TEFC).
These added features and functionality reduce the number of SKUs the customer needs to stock, simplifying the motor selection process and enabling shorter lead times. The Flex-in-1 motor is available now.