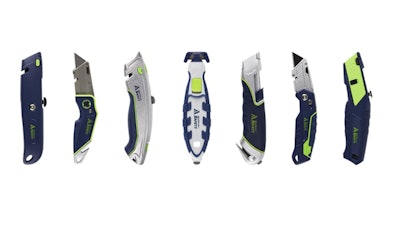 AccuTec, Inc. (Verona, VA) has announced the release of its groundbreaking line of Safety Knives and Hand Tools, AccuTec PRO Safety.
Built on the foundation of trusted sharpness, AccuTec's Safety Knives and Hand Tools incorporate innovative features designed to enhance user safety, efficiency and comfort. This comprehensive range includes precision-engineered cutting tools, automatic retractable mechanisms, convenient folding options, and user-friendly blade change systems – all meticulously engineered to meet the highest safety standards in the industry.
According to AccuTec, the reason a sharper blade is a safer one comes down to the following points:
Requires less force to cut through materials, reducing user fatigue and potential strain.
Reduces friction during cutting, allowing users to maintain better control of the tool.
Requires less force, meaning reduced risk of sudden slips or jerks.
Leaves cleaner edges, reducing the need for additional finishing or trimming.
Key Features of AccuTec PRO Safety Knives and Hand Tools include:
Auto-Retract Mechanisms: The automatic retractable feature ensures the blade is safely retracted when not in use, preventing accidental cuts.
Folding Options: Compact and portable, our folding tools are ideal for on-the-go tasks and can be easily stored when not in use.
Easy Blade Change: Our tools are designed for hassle-free blade replacement, allowing users to maintain peak efficiency with minimal downtime.
www.accuteccompany.com, 540-245-2231