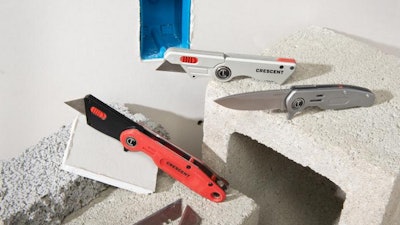 Crescent Tools (Sparks, MD) releases a brand new line of Pocket Knives. The Crescent team will unveil three dynamic new pocket knives: the Hybrid Folding Utility Knife, Compact Folding Utility Knife, and the 2.5" Low Profile Frame Lock Knife.
Both utility knives have a sturdy liner lock and feature a slide button release for quick blade change. The Hybrid Folding Utility Knife features a first-to-market design that combines the comfort of an everyday carry (EDC) knife with the blade-changing functionality of a utility knife. A ball-bearing flipper tab makes for smooth, one-handed blade deployment.
The Compact Folding Utility Knife is truly compact, with a length of only three inches when closed, and an EDC-style pocket clip. The 2.5" Low Profile Frame Lock Knife features an ultra-slim design and a durable D2 steel drop point blade that is made to stay sharp even with heavy use.