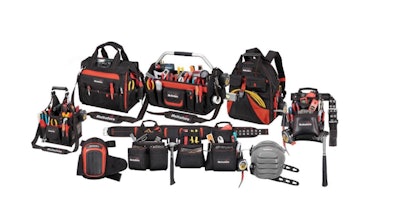 Hultafors Tools (Mequon, WI) is expanding its dedicated product offerings for the professional with the introduction of Hultafors Tools Work Gear, a comprehensive line of durable tool carriers, functional work gear and comfortable kneepads. Hultafors has launched 43 premium, durable, reliable work gear products at the 2022 STAFDA Convention in San Diego, California.
Hultafors Tools now offers a revolutionary line of tool carriers with a multitude of storage options for keeping gear stowed away properly and safely while being lightweight for easy toting. Promoting on-the-job efficiency, Hultafors Tools soft sided tool bags are designed to withstand on-the-job abuse.

Key bag features include designated level cradles, metal tape clips, electrical tape holders, collapsible metal handlebars with molded grips for easy carrying, and an integrated 3 level LED lights (39 lumens) on selected models illuminating your work area and inside your bag. The Hultafors tool carrier line includes backpacks, closed-top and open-top tool bags, multi- compartment tool bags, nail bags, pouches and specialty professional tool carriers for technicians, carpenters, maintenance, and electricians.